These Shoes Make Any Mini Skirt Look Even Better
@alwaysjudging On Instagram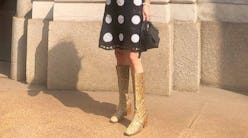 High hemlines defined entire decades with their splashy, slightly provocative aesthetic (ahem, Swinging Sixties). But, their appeal endures for the women of today, too. With Fall/Winter 2019 collections like Balenciaga and Miu Miu giving the above-the-knee cut their stamp of approval, and an entire exhibition at London's V&A museum currently devoted to Mary Quant (the designer known for her history-changing shift dresses), it's an appropriate time to think about fresh styling ideas for this flirty silhouette. Specifically, the best shoes to wear with mini skirts and dresses. A cropped hemline does offer a chance to show off a really great pair of boots or heels, after all.
Read more: The Best Shoes to Wear With Baggy Jeans & How To Style Them Too
Since you aren't ready to relinquish your warm-weather vacation staples just yet, consider the ways in which you can make a cool mini work with the footwear on your fall shopping list. Think of it as squeezing the last life out of your favorite summery staples before putting them away for the remainder of the year. Perhaps it's pulling out transitional sandals for balmy days, or finally springing for — and breaking out — the ankle boots you've been eyeing since fashion week. Ahead, see which shoes Instagram's finest are teaming up with minis right now for ideas on how to wear them now — all the way into fall.
Heavy Duty Sandals
A pair of tourist-inspired sandals offer a cool contrast to a dainty mini dress. Whether it's a long-sleeve frock with puff sleeves or a ribbed sweater dress, just add in a pair of chunky sandals below and the look will come together. As temps cool, add tall socks to the equation for a transitional styling idea.
Classic Kicks
If you're over the chunky sneakers trend, that doesn't mean you have to retire this comfortable footwear staple altogether. Just swap in a pair of classics instead. Think Converse high tops or your trusted Dad trainers — they'll add a touch of pared-down fun to whatever mini hemline you've got going on up top.
Tall Boots
Since minis tend to go hand-in-hand with warmer temperatures, if you're curious how to style for autumn, consider a tall boot option. Not only is it a no-brainer way to extend the lifespan of your shorter skirts and dresses, it also has a Francoise Hardy vibe that's stylish and unexpected.
Low Heels
Sure, there's probably a time and place where a mini dress and sky-high heels can work, but for the everyday scenario it's probably a safer bet that a low heel better pairs with a short skirt or dress. Thankfully, that's a major shoe trend right now with options ranging from square-toe mules all the way to slingback iterations.
Strappy Sandals
The '90s-inspired strappy sandals trend shows no signs of slowing down (phew!), and it also happens to look quite cute with a mini hemline situation. For autumn, consider adding in a pair of fun tights to finish the look.
Minimalist Flats
If you're looking for a low-fuss approach, accessorize your short hemlines with a pair of sleek, minimalist flats. It gives off an Olsen sisters aesthetic that's equal parts versatile and timeless.
Mid-Shin Boots
While classic ankle boots worn with a mini run the risk of cutting off your legs, a mid-shin silhouette might be a better option. Try everything from cowboy boots to sleek, sultry versions as autumn approaches.