7 Influencer-Approved Jeans And Shoe Combinations To Try This Spring
Cornel Cristian Petrus/Shutterstock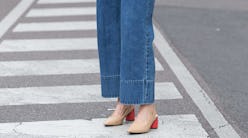 No matter if you're a die-hard denim fan or just your average jeans-wearer, figuring out what shoes to wear with which jeans can be tricky. On the denim front, the options are seemingly endless: there's cropped, flare, wide-leg, straight, baggy, skinny, raw-hem, and a slew of other styles at your fingertips. And while the more fun styles to wear the merrier, it does create a sort of decision paralysis when it comes to pairing them with footwear — especially now that spring is in full swing and deferring to ankle boots for everything isn't always the best option. Even more, 2019's spring shoe options don't just stop at sandals or flats: Now we have chunky sneakers, sport sandals, and even kitten heels in the mix.
Thankfully, the women below heard a collective cry for sartorial help and assembled stylish looks that quite conveniently illustrate exactly which footwear to pair with the season's most wearable denim trends. From the cute sandals and shoes to wear with baggy jeans, to the best way to style your cowboy boots, the seven chic looks below should acquiesce your wardrobe worries and get you prepped and ready for many denim looks for the months to come.
Crop Flares + Square-Toe Pumps
Crop-flare jeans are universally beloved thanks to their elongating effects. For spring, style yours with a pair of trendy square-toe heels in a woven basket texture for a an aesthetic that feels akin to Jeanne Damas's just-came-from-the-farmers-market vibe.
Distressed + Sneakers
Though balancing out hard and soft details is a good idea, sometimes it also makes sense to double-down on a look — such is this case with distressed denim and sneakers. Grab a pair of lived-in denim and accessorize them with your favorite kicks for a downtown-inspired look. Finish off the outfit with a graphic tee and blazer.
Straight Leg + Slides
Straight-leg jeans look great with a slew of shoe styles (mules, pumps, ankle boots) but now that the sun is shining bright why not reach for your slide sandals and team the two together? The result will feel sleek and laid back.
Vintage Fit + Cowboy Boots
The western trend shows no signs of slowing down thanks to the parade of fringe jackets and cowboy boots spotted during fashion week street style. Not sure how to wear your new boots? Tuck a pair of vintage blue jeans into them. Giddy-up.
Baggy + Strappy Sandals
Trendsetters have gone for a relaxed, almost-baggy jeans silhouette the last few months and though the 90s-inspired look is well advised, the footwear to team with it might prove more challenging. Follow Bettina Looney's lead and try a pair of strappy sandals. To finish, a puff-sleeve top.
Wide-Leg + Slingbacks
Wide-leg denim often feels a bit more dressed up than your everyday skinnies, which means they look great with a pair of heels. This spring, try a pair of slingbacks.
Bootcut + Pointed-Toe Heels
It doesn't get much more classic than a pair of bootcut jeans; wear them with pointed-toe heels for a combination you can turn to day after day.