The Best Sheets For Fall Are 40% Off At Bloomingdale's Right Now
Bloomingdale's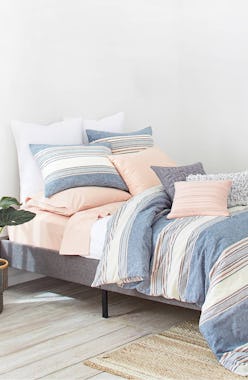 Finding the right bedding is a tricky business – especially in the fall. You want something that's not too heavy (because sweating in bed is never fun), and something that won't leave you freezing when temperatures plummet, either. Plus, there's the cozy factor to consider. It's pretty much a must to have something wildly soft to bundle up in while you're sitting in bed drinking coffee, which isn't always doable when your sheets are designed to be more crisp and clean than comfy and warm. Basically, the best sheets for fall (and honestly winter, too) are a mix between the two extremes — breathable, but still super soft. And right now, the perfect ones can be found at Bloomingdale's in Splendid's new home collection.
If you missed your chance to scoop up deals on home decor during the many Labor Day sales this year, you're in luck: These sheets — and most of the Splendid home line — are 40 percent off for Bloomingdale's Loyallist sale now through Sept. 16.
You may have stumbled across Splendid's T-shirts at some point in time: They're known for being really soft, easy to wear, and at a price point that's not too crazy (you can usually find them for around $50). Now the clothing brand has ventured into home decor with a new line of minimal bedding. The line is largely reminiscent of the brand's classic tees — the colors and patterns are minimal and subdued, and the fabric is made with the brand's signature softness in mind. It's affordable, too — the most expensive product from the collection is a king-sized comforter set, which is $367 at full price.
The collection includes big comforters, throws that look like cozy sweaters, and neutral but decorative pillows. Shop below: