A Lesson In Perfecting Red Lipstick, As Told By 4 Red-Carpet Looks
Jordan Strauss/Invision/AP/Shutterstock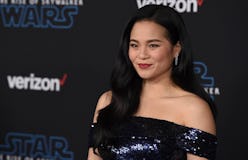 Dec. 16 may have seemed like any other day of the year to you. A week before the holidays begin, sure, but nothing too out of the ordinary. Well, unless you're a Star Wars fan. Or patiently awaiting the Little Women movie. Or have both the Cats and Bombshell films on your must-watch list. Starting to see a trend here? All four star-studded films had some sort of event — premiere or screening — Dec. 16, which means that last-minute, red-carpet holiday makeup inspiration is ripe for the picking. And of course, this includes the best red lipsticks for the holidays, courtesy of the red carpet itself.
Because there was no shortage when it came to the classic lip shade on Monday. And even though the same color showed up over and over, styled with gowns and suits alike, each star wore their own interpretation of the quintessential lip — giving you the chance to scroll through and decide on which one you'd like to wear to your own holiday party circuit.
Below, four of the most eye-catching red lipstick hues recently spotted on the red carpet; plus, four similar shades that you can pick up for yourself (including the exact color that appeared at the Star Wars: The Rise of Skywalker premiere).
Classic Red
"Claws out, kitties," Taylor Swift captioned her Instagram photo Dec. 16, which showed the star's Cats film premiere look: An intricate Oscar de la Renta gown and impressively perfect red lipstick.
Subdued Red
Kelly Marie Tran's natural-looking red lipstick at the Star Wars: The Rise of Skywalker premiere Dec. 16 complemented her sequined gown to a T. According to makeup artist Hinako, the star wore Pat McGrath Labs' PermaGel Ultra Lip Pencil in "Buff" accented by MatteTrance Lipstick in "003 Elson."
Cool Red
The London Little Women film screening was treated to three sartorial gifts on Dec. 16: Florence Pugh's gingham dress, Timothée Chalamet's pink suit, and Saoirse Ronan's cool-toned red lipstick.
Glossy Red
Meanwhile, at the Bombshell film screening, Dascha Polanco's glossy red lip was a showstopper. It also proved an important point to keep in mind for the holiday season: If you, too, don a glitzy velvet tux for NYE — à la Polanco's HARRYHALIM set — red lipstick is the perfect companion.