This Product Keeps My Thin Hair Shiny & Voluminous All Winter Long
@laurencaruso_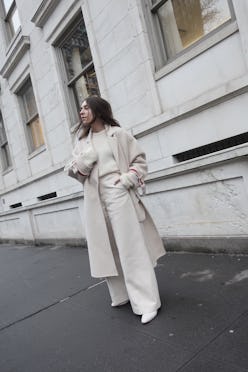 My morning hair routine has always been more or less the same: I hop out of the shower, blow-dry my roots for a few minutes, then tuck it all under a beanie for my commute. I break a minor sweat while smushed up next to a dozen other F train riders, then finally get to work, where I take off said beanie and attempt to fluff my now-flattened hair — only to shock myself with a jolt of winter static. I try to fix it with a cocktail of oils and balms at my desk, but it's too late: My hair's already committed to being one big flyaway. It took me well into my fourth decade to figure out that the best products for dry winter hair aren't just the ones you apply once it's already dry.
"Similar to your skin, your hair and scalp can get very dry in the winter," says Erickson Arrunategui, a top hairstylist at Bumble and bumble salon in New York City (and also the only person who's cut my hair in years). "It also causes static electricity in hair, which is super annoying."
The severe lack of moisture in the air means it's important to start early — as in, before you even get in the shower, Arrunategui says. That sentiment it doubly true for anyone with thin hair like me. Ahead, the winter hair routine he helped me put together for hydrated, healthy, static-free hair.
Best Products For Dry Winter Hair: The Treatment
Best Products For Dry Winter Hair: The Scalp Scrub
Best Products For Dry Winter Hair: The Shampoo
Best Products For Dry Winter Hair: The Conditioner
Best Products For Dry Winter Hair: The Primer
Best Products For Dry Winter Hair: The Split-End Mender
Best Products For Dry Winter Hair: The Volume Powder
Best Products For Dry Winter Hair: The Styler
Best Products For Dry Winter Hair: The Shine Spray
Best Products For Dry Winter Hair: The Hail Mary
Best Products For Dry Winter Hair: The Scrunchie