The Best Nail Clippers That Manicurists Use (Because Yes, It *Does* Matter)
Imaxtree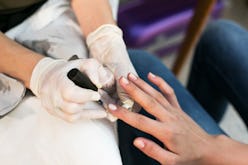 Keeping your nails groomed to just-came-from-the-salon perfection requires upkeep, regular polish changes, and most importantly, great tools. That includes the most basic: your nail clippers — the best of which don't need to run you major $$$. And yes, it really does matter.
Though most look similar, some provide closer, sharper cut than others. "There's curved, angled and straight-head clippers," Chicago-based manicurist Diane Diaz tells TZR. "I prefer straight, as it's important when clipping nails straight across and not into the corners to avoid ingrown nails."
And while celebrity manicurist Deborah Lippmann disagrees — "I actually recommend using a clipper that has a curved edge because I think it's easier to maneuver without putting too much pressure in the wrong place and causing the nail to weaken," she tells TZR — it's really just a matter of preference. (The TZR office is split: Site Director Lauren Caruso prefers a curved edge because they don't bend her already-delicate nails, while Beauty Editor Khalea Underwood prefers a straight-edge.)
Some other important factors to consider when looking for a pair of clippers include what they're made of. "High-quality stainless steel is a must when looking for quality clippers as it is anti-corrosive," Diaz says. And if you're a chronic nail biter like me, using a clipper that won't put pressure on already damaged nails is vital.
No matter if you prefer a straight edge or a curved one, there's a universal rule that celebrity manicurist Mar y Sol Inzerillo goes by: "Don't cut the nail at an angle or you will be left with a pointy nail in the middle," she explains.
Ahead, see the most durable and precise nail clippers that your kit needs.
Shop Nail Clippers