Here's How Beautycounter's New Tinted Mineral Sunscreen Works (& Why Your Vacation Bag Needs It)
Olivier Degoulange/Shutterstock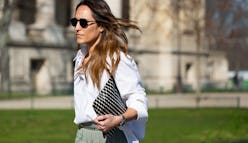 It's time to add one more product to your vacation bag checklist. The clean beauty brand Beautycounter's new Countersun Tinted Mineral Sunscreen Mist SPF 30 was just unveiled, and the $39 spray is going to live in your purse all summer long. With one allover spritz of the bottle, your skin will be protected from the sun — thanks to a tinted formula that evens out your skin tone and boosts your natural glow.
Wondering how one product can do all that? Here's the breakdown. Beautycounter's sunscreen mist works similarly to ones you've probably used in the past — it contains 14.5 percent zinc oxide, which is the ingredient that makes it a mineral sunscreen (versus a traditional chemical sunscreen). The added tint — which is available in "Light-Medium" and "Medium-Deep" — is mixed into this formula, allowing it to match or bronze your natural skin tone as you mist it on. And, surprisingly, the tinted sunscreen does a good job of disappearing into your skin; Beautycounter also notes in the how-to video that shoppers should use circular motions to help the formula blend in.
Better yet, you can trust that the SPF 30 will help you stay sunburn free, since this new addition is just the tinted version of Beautycounter's best-selling Countersun Mineral Sunscreen Mist SPF 30. The beloved sunscreen has garnered over 300 perfect reviews on the brand's website, partly due to the reliable formula — and the genius non-aerosol bottle, which uses compressed air to create the continuous misting effect. Additionally, the formula is advertised as reef friendly and water resistant (for up to 80 minutes of safe splashing).
And Beautycounter has your back even if you forget to spritz on the sunscreen before heading outdoors. The beauty brand also released the Countersun After Sun Cooling Gel, a soothing $32 formula that instantly calms sensitive skin after smoothing it on. It's made from a blend of aloe leaf juice and California poppy extract, with an added dose of skin-hydrating niacinamide and sodium hyaluronate.
As you know, summer will be here before you know it; and so will vacation packing. Ahead, both new products from Beautycounter's Countersun collection.