These Luxury Sock Brands Will Help You Master Fall Dressing In Style
Comme Si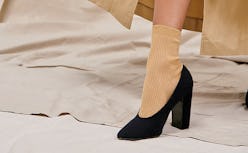 There's no denying it anymore: summer — along with its hotter-than-hot weather and sun-filled days — has become a thing of the past. And with the official start to fall less than two weeks away, chances are you've already started to build your latest collection of cozy knits and loungewear. Of course, during these transitional weeks between the seasons, it's probably a little too warm to dive headfirst into a sea of cashmere sweaters and wool pants. However, if there's one way to step into fall dressing, it's with a quality pair of socks. And once you have the best luxury socks for fall right in your drawer, everything else will simply fall into place.
In all honesty, socks tend to be one of the most over-looked accessories in someone's wardrobe. More often than not, they're the pieces that serve as additional (and sometimes necessary) comfort for your everyday shoes. That said, they can also be a major styling asset. And as you slowly transition out your summer sandals for stylish boots and sneakers of all shapes and sizes, the right pair of socks has the power to transform your outfit. Whether they're for everyone to see or for your personal comfort, chic, luxury socks are well worth the investment — and if you're looking to buy some new ones, these are the brands to know.
Darner
If you want to stock up on styles that were made to be seen, look no further than to Darner — which is named after the nickname given to women who would repair (or darn) Civil War soldiers' socks. You'll find everything from chic mesh socks to style with your heels as well as velvet options to wear further into the season.
Comme Si
Comme Si's socks are made with 100 percent Egyptian cotton or 100 percent Italian silk, which means they'll be some of the most comfortable socks you own. And when you have light, breathable, and buttery smooth socks on hand, you won't want to wear anything else.
Heist
Born out of the desire to create shapewear pieces for the world's diverse women, Heist uses technology to create tights for all types of bodies using high-quality yarn that'll stay with you — and the brand's socks are no different. Available in black with pops of color, these will easily become your go-to pairs for any of your more formal shoes.
Hansel from Basel
For those of you who prefer to wear socks that speak for themselves, Hansel from Basel is just what you need. With a wide range of styles — with and without embellishments — these playful socks will get you excited for the moments you plan to spend lounging at home this season.