The Exact Jeans To Wear On Date Night, According To A Fashion Insider
@songofstyle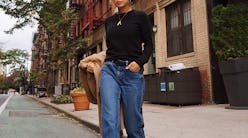 First things first, let it be known that there is simply no universal jeans style that you should be wearing on dates — full stop. As with every other pocket of life (career, travel, leisure) wearing clothing that best suits your personal taste is always the correct choice. But, should you decide on denim, the best jeans to wear on a date are the ones that you feel awesome in — no matter if you're single or in a relationship.
And whether your go-to style is super-skinny, cropped flares, or baggy denim, there are endless styling tricks you might employ — and TZR consulted a group of denim experts (yep, those exist!) to find 'em.
You might opt for a pair of jeans with an unexpected hemline, or maybe a laidback, wide-leg pair that's best suited for a movie date. Either way, these industry experts' picks are sure to get your wheels turning.
Classic But Flirty
"Love this jean for date night as it's classic but also has a flirty feel. The ties at the hem give this skinny fit a feminine look and the cropped inseam length makes it easy to wear with either heels or boots." — AMO Co-founder Kelly Urban
The Power of Versatility
"Our Cressa High Rise jeans prove the power of versatility — [they're] both sexy and sophisticated. Designed to hug you in all the right places, this skinny style is so sleek and soft you'll think it's made of a cashmere." — Habitual Marketing Director Jill Dente
Cool and Relaxed
"If you're going to a trendy new restaurant then I recommend our Hoxton Straight in Riot. It's a sexy (but not too sexy) black jean that looks cool and relaxed." — Paige Founder Paige Adams-Geller
A Bit More Edge
"This is my favorite jean to wear when I want just a bit more edge. I wore this one recently to an art gallery opening and felt just dressy enough while still being laid back. I love that it's a wide leg but with a modern feel. I like to pair mine with boots." — AMO Co-founder Kelly Urban
Hints of Nostalgia
"We don't believe there's one best jean to wear on a date. It should be about what makes you look and feel good. We can, however, share one of our favorite styles right now: Nostalgia plays a big part in our swing collection with a return to throw back fits and washes like this hot rod red style." — MOTHER Creative Director and Co-founder Tim Kaeding
Lived-In Wash
"It depends on where or what your date is! If it's a movie night, a Sarah Slim in a lived-in indigo wash is perfect." — Paige Founder Paige Adams-Geller
A Great Fit
"This is my go-to jean for every day but I also love it for date night! It's just such a great fit and it makes me feel really confident when I wear it. Since the wash is more beat up, I like to pair this style with cute heels and a feminine top." — AMO Co-founder Kelly Urban
Winter Date Outfits To Try
Contrast a pair of light straight-leg jeans with a turqouise turtleneck and bow-embellished heels. The combination of roomier denim with dainty footwear and a pop of color will read effortless and polished.
Add allure to a pair of vintage Levi's by way of a sheer ruffled top and croc-effect boots. To finish, slip on a few pieces of delicate gold jewelry.
For a look that feels laidback but elevated wear a soft cardigan with dark-wash denim and a pair of sand-colored ankle boots.
Soften a winter white outfit by swapping in cream-colored separates, like a turtleneck and mid-heel booties.
If you're headed somewhere casual like the movies or a coffee date, team your black jeans with a lived-in white tee and a polished moto jacket.
Just because it's a date doesn't mean you need to stick to a muted color palette; embrace pops of color, like a chartreuse sweater or even a snake-print tee (or both!).
If simplicity is the name of your game then you can't go wrong with a crewneck sweater styled with blue jeans and sleek boots.
Go for a hint of bohemian flare with a bell-sleeve knit teamed with crop flare jeans and patterned boots. Layer on your favorite necklaces to complete the look.
Give your date ensemble a touch of texture with a romantic velvet blazer layered on top of a tissue turtleneck. Crop jeans and lace-up boots will give the outfit a Parisian-inspired finish.