The Influencer-Loved Beauty Products That Editors Can't Resist, Either
@marianna_hewitt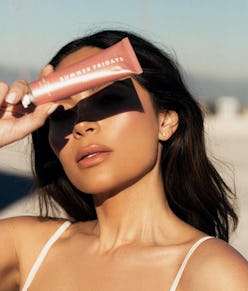 I write about makeup, skincare, and hair care for a living, and one hazard of the job is fielding a zillion questions about my personal beauty editor routine — the biggest one being this: "Do you get all your products for free?" To answer that burning question, free goodies are kind of a given in the industry — how else are writers supposed to test and report on the constant stream of new products? — but even editors can't resist the best Instagram beauty brands. Some of my favorite beauty purchases to date have been spurred on by spon-con, Instagram ads, and other writers' rave reviews.
It's almost impossible to quantify or qualify what, exactly, it takes for an Insta post or article to inspire me to whip out my wallet. I've noticed a few consistent themes, though: a chic, glossy-skinned brand founder (see Golde, Wooden Spoon Herbs, Wildling), a steady stream of similar #ads from nearly every influencer I follow (Daily Harvest, Lumineux Oral Essentials), or a glowing recommendation from one of my beauty idols (basically, everything Kourtney Kardashian or Tracee Ellis Ross has ever endorsed). Of course, not every #influenced beauty buy is a winner — like the too-cheap-to-be-good high frequency acne wand I ordered from a sketchy overseas site at the urging of a targeted ad — but the following face masks, skincare tools, beauty supplements, and more have all earned a spot in my daily lineup.
Ahead, 13 worth-the-hype products I couldn't add-to-cart fast enough — and the influencers that influenced each purchase.
Weleda Skin Food
After seeing makeup artist Katie Jane Hughes wax poetic about Skin Food's multipurpose benefits over and over again on Instagram — It's a moisturizer! It's a mask! It's a highlighter! — I had to try it for myself. Now I'm a super-fan (and so is my extra-dry skin).
CAP Beauty x Wooden Spoon Herbs The Light Ray
I am certifiably obsessed with natural beauty retailer CAP Beauty and its founders, Kerrilynn Pamer and Cindy DiPrima Morisse. The duo sends out a monthly newsletter, SH*T WE'RE DIGGING, detailing their current obsessions — and it's inspired more purchases than I care to share. The latest: CAP's new collab with Wooden Spoon Herbs, a delicious, glow-boosting tonic called The Light Ray. It tastes like strawberry jam and is packed with collagen-stimulating vitamin C and skin-healing vitamin B for healthy skin from the inside out.
Daily Harvest
I resisted signing up for Daily Harvest — a subscription service that delivers frozen smoothies and bowls to your door each week — for as long as humanly possible, but after seeing approximately one million influencers post about how amazing it is, I gave in (and used beauty blogger @girlstallion's code for 20 percent off, natch). I'm so glad I did. I love having a quick, easy, healthy breakfast option on deck every morning — especially since Daily Harvest's smoothies feature skin-loving ingredients like Omega-filled pumpkin seeds and antioxidant-rich cherries.
La Tierra Sagrada Hair Care
I'd been curious about all-natural hair care brand La Tierra Sagrada ever since spotting them on the digital shelves of Credo Beauty, but it was an article by beauty editor Jessica Ourisman that finally convinced me to place an order. The sentence that had me hooked: "La Tierra Sagrada was created using shamanic wisdom that came from [the founder's] own healing journey, which included years apprenticing with an Amazonian shaman." Doesn't that sound divine? My hair has never felt softer than after a session with the Treatment.
Wildling Empress Stone
Full disclosure: Wildling was generous enough to send me its entire line to try; including a face mist, a face oil, and a crystal-carved gua sha stone. The gua sha quickly became a non-negotiable part of my getting ready ritual: Its curves and edges are expertly engineered to encourage lymphatic drainage and eliminate puffiness, and the methodical massage technique feels more like a meditation than a skincare step. When I accidentally dropped it on my tile floor, the gua sha wasn't the only thing that shattered — my heart did, too. I didn't hesitate to order another one on my own dime. It's that good.
Allegra Magic Globes
Speaking of facial massagers: As soon as I read this article on the Cut about Tracee Ellis Ross' go-to "beauty orbs," I Amazon-ed a set for myself. The actress has posted many, many times about how the chilled sculpting tools keep her face "tight and cute," and who isn't in the market for a tight, cute face like Ross'?
Aquis x Poosh Rapid Dry Leopard Print Turban
I've said this before and I'll say it again: In the same way everyone has a Sex and the City character they identify with, everyone has a Kardashian-Jenner soul sister. I am a Kourtney, and as such, will literally buy anything she sells via her lifestyle site, Poosh. The brand's latest offering is a leopard print turban that dries hair at hyper-speed, and it may be my favorite celebrity-backed beauty buy ever.
Golde Superfood Face Masks
I've followed Golde founder Trinity Mouzon Wofford for a while now, and am always in awe of how her skin looks soft and radiant in every single selfie. When she revealed her secret — Golde's Superfood Face Masks — and some impressive before-and-after photos, I knew I had to have the masks for myself. Lately, I've been using Clean Greens once a week to unclog congested pores.
One Love Organics Vitamin B Cleanser
Years ago, Hayley Wood of Therapeutic Skin Coach — Instagram's favorite holistic aesthetician — recommended I try the brand One Love Organics, and its Botanical B Cleanser has been my daily face wash ever since. I'm currently on my fourth bottle, which I think says it all.
Lumineux Oral Essentials Whitening Stripes
If you haven't seen an ad for Lumineux Oral Essentials, are you even on Instagram? Influencers love this clean oral care brand's natural Whitening Strips, since they remove stains without damaging your enamel (thanks to Dead Sea salt, essential oils, and aloe vera). After trying them for myself, I have to say: The ads don't lie.
CrownWorks Clear Quartz Crystal Comb
If I could only shop on one site for the rest of my life, it would be FreePeople.com. The clothes, of course, are lovely — but it's the beauty section that gets me every time. It's full of unconventional offerings I never knew I needed (but definitely, 100 percent need) — like this clear quartz hair comb from CrownWorks. It releases tangles and negative energy, and looks great on my bathroom counter, too.
Summer Fridays R+R Mask
Summer Fridays sent me its R+R Mask when it launched earlier this year, but I never got around to trying it until fellow editor Kristin Corpuz posted about it on her blog. "The rose powder is really gentle, which is an absolute must for me because my skin is so sensitive, and I really love the smell because it helps wake me up a little when I'm feeling a little sleepy in the shower," she wrote. "The oils are non-comedogenic, too, which means that anyone can use it, even if they're acne-prone." That was all the motivation I needed to treat my own sensitive, acne-prone skin to some R+R — and it worked like a charm.
Bottled Joy 75oz Water Bottle
"I've become an H2O-glugging freak," Vogue editor Liana Satenstein recently wrote in an ode to extra-large water bottles. "But I'm an H2O-glugging freak with really clear skin." Then and there, I resolved to follow in Satenstein's footsteps and tote this 75-ounce jug with me wherever I go. It holds just a touch more than the daily recommended amount of water, ensuring my body (and skin) is always optimally hydrated.