Tracee Ellis Ross Is Launching A Haircare Brand — Here's When You'll Be Able To Shop It
Emma McIntyre/Getty Images Entertainment/Getty Images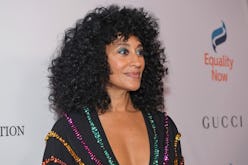 Despite the beauty industry's considerable steps towards inclusivity — finally, there are brands that offer foundation shades for nearly every face — there are still clear holes in which certain categories let down whole communities. One such area that could use some extra attention? Haircare, specifically that which serves those with curly, coily, and tight-textured locks. Luckily, some new natural hair necessities are about to hit shelves care of Pattern by Tracee Ellis Ross, a brand-new line that boasts the products your shelves have been missing. Say hello to defined, beautiful curls you can actually get in your very own shower.
For the past 20 years, actress and activist Tracee Ellis Ross has been dreaming about accessibly-priced hair care products that would enhance and celebrate her natural curls, but they simply didn't exist. So, she made them. After first developing a brand pitch 10 years ago and spending the past two years working alongside chemists to create the ideal formulations, Ellis Ross is finally ready to unveil the curly hair solution she sought after — so you can go ahead and call off your own search. And from the everyday essential formulas to the promising packaging to the tools that'll make styling a breeze, it's clear she thought of everything.
Pattern by Tracee Ellis Ross drops its phase one collection on its website on Sept. 9, to finally give people with curls ranging from 3B to 4C textures control over their own hair destiny from the comfort of home (and more specifically, in the shower). According to a report by InStyle, the collection will also land in 12,000 Ulta stores two weeks after its initial launch, so be on the lookout for the line's seven inaugural products during your next stock-up shopping spree.
Allure's exclusive report names a $20 shampoo, a whopping three different kinds of conditioner that include Medium, Heavy, and Intense for your ideal level of hydration, a $25 leave-in conditioner, two $25 oil serums (jojoba and argan oil), a $17 rubber in-shower brush, a $10 hair clip, and a $19 curl-protecting microfiber towel that won't undo all that definition you just achieved. The in-shower products also come in $9 refillable travel sizes and the conditioner comes in larger-sized packaging, $42, because those with textured hair know it takes more than just a quarter-sized amount to effectively treat your tresses. Essentially, you can clear everything else off your shelf, because Pattern's seven products promise to do it all.
The wait won't be long until you can get your hands on Tracee Ellis Ross' brand-new haircare line — and in the meantime be sure to sign up for updates on Pattern's site so you can be among the first to snag it for yourself.