These 5 Classic Movies Are A Great Source Of Halloween Inspo
Moviestore Collection/Shutterstock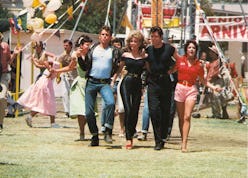 Unless you're the type of person to put their Halloween costume months in advance, chances are you're probably still thinking about what to wear. Whether you've spent the past couple of weeks brainstorming for unique and original ideas or there's a specific of-the-moment pop culture reference in mind, Oct. 31, along with all of its costumed fetes, can feel like a special occasion of sorts — especially for anyone who claims the day as their favorite holiday. Of course, if you're tapped out of ideas for what to wear this year, some of the best Halloween costumes for 2019 come straight out of classic movies.
Let's be honest: Halloween is no stranger to its share of reimagined versions of the most stylish (or in some cases, the most iconic) outfits seen on the silver screen. And if you have any parties coming up in the weekend ahead of the festive night, channeling your favorite characters from popular movies will always be a good option. Plus, when you're sporting a look from a cult-classic movie like Pulp Fiction or Romy and Michele's High School Reunion, there's no doubt people will know exactly who you are.
With halloween a little over a week away, the countdown to the night is on. If you're looking for a foolproof costume to wear as you celebrate, consider these chic and iconic outfits and represent the stylish ladies of your favorite movies this year.
B.A.P.S.
Halloween is the perfect time to pull out all the stops. In which case, the looks from B.A.P.S. — with the bold leopard print and PVC pieces — are sure to be showstoppers.
Pulp Fiction
Anyone who's looking for a simple costume to put together can always look to Pulp Fiction's Mia Wallace. With white button-down, black pants, and a black wig, you're set to go.
Romy and Michele's High School Reunion
Planning to attend a costume party with your best friend? Opt to go as these two fashion-forward ladies. And when the night is over, save the party dress for your next night out.
Grease
It doesn't get more iconic than Sandy's off-the-shoulder top and ultra-tight pants. Simply put: This costume will never get old.
Bring It On
Another look to put together with your best friend, the captains of opposing cheer squads will bring back the trends of the early aughts in a major way.