These Leggings Are The Secret To Looking Polished Without Sacrificing Comfort At All
Dvora/Shutterstock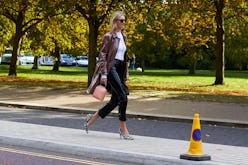 The new year might be thought of as a time to start fresh and make lofty resolutions, but let's be real here — it's January, and all anyone really wants to do is stay inside, wear comfortable clothes, and hide until the worst of winter has run its course. While it's not really feasible to hibernate until April, though, it's perfectly possible to ensure your outfits make up for that if you choose the right cozy pieces. And while "cozy" doesn't always make for the most put-together looks, comfy-but-chic outfits do exist. The secret? You just have to find the best faux leather leggings to throw on to give all your winter-friendly pieces that extra bit of polish.
Sure, leather leggings can set you back quite a bit in terms of budget. But faux leather leggings? They often run south of $100, making them an easy addition to any wardrobe, no matter your 2019 money goals. On the seriously affordable end of the spectrum, Zara (naturally) has plenty of options, a notable choice being this bold red pair for $29.90. If your new year's resolution involves wearing more color, this is the optimal option — just layer an oversized gray sweater and a sleek pair of sneakers for an off-duty look that still feels very put together.
Faux leather leggings don't have to be that bold, though, so if you tend toward a more minimalist aesthetic, there are many more pairs that come in less eye-catching hues. This $94.90 pair from ELOQUII fits that bill with a sleek, simple design and plain black color. And if your closet just can't handle any more black, Aritzia makes a pair that comes in a dark charcoal shade for a super subtle tweak on the classic color.
Looking for something seriously luxe? These $340 Stella McCartney leggings are perfect, and have a relaxed silhouette that won't give you that overly tight look or feel. And this pair from Theory couldn't be more classic — they're mink brown, skinny, and even come with a hidden zipper so you can easily get them on but still have that leggings look.
It's 2019, which means if you haven't gotten your wardrobe sorted for the winter, it's high time to do so now. Keep scrolling for TZR's top picks on the internet so you can ditch those basic leggings for a faux leather pair that'll carry you into spring in warmth and style.