This 5-Star Drugstore Highlighter Gives Just The Right Amount Of Glow
Samantha Nandez/BFA/Shutterstock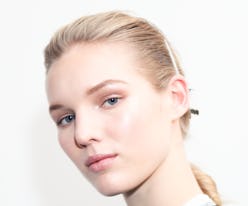 Whether you strive for a lit-from-within look or you tend to go all out with your glow, a great highlighter is a makeup bag essential. And getting luminous doesn't have to cost a ton — Ulta's got some of the best drugstore highlighters amongst its top sellers, so you can get glowing for under $15.
Considering Ulta is a huge fan favorite for all things beauty, those who shop there are pretty serious about their shopping. So, when certain products reach bestseller status, racking up tons of five-star reviews, it's worth taking a look to see what all the hype is about.
Such is the case for the beauty superstore's highlighter offerings, many of which have hundreds of loyal beauty fans. The most interesting thing about these super-popular luminizers, however, is that several of them fall within a shockingly low price range – proof that drugstore brands can be just as effective as the big ticket items. As it turns out, it can cost you less than $15 to achieve the ideal glow you're looking for.
One such cult fave highlighter comes from a classic drugstore brand, Maybelline. The iconic brand's $9.99 FaceStudio Master Chrome Metallic Highlighter has a nearly five-star rating on Ulta's site, but the shade that seems to attract the most accolades is an Ulta-exclusive from YouTuber NikkieTutorials. The bestselling Master Chrome shade is beloved by reviewers for giving pigmented but buildable color so you can create just the right amount of molten metal glow. Use it on the high points of your face for a strobed effect.
Equally popular is Wet n Wild's MegaGlo Highlighting Powder, which will get you ready to glow for only $4.99 a pop. Over 200 reviewers have given the powder highlighter five stars, claiming that the super-affordable formula puts their high-end highlighters to shame. The MegaGlo highlighter comes in five different metallic shades, from a deep bronze to a silvery diamond shade, so you can find the right glow for your complexion.
Those who favor a more naturally luminous look will be satisfied with the $4.99 Pure Nude Sunlighter from Essence, which has 17 reviews and a five-star rating on Ulta. Fans of this well-priced product like that it makes your skin golden, as if you've just come back from a long summer vacation. Spending all of winter looking fresh off the beach in Positano, for only $5? Consider that a win.
You'll spot lots of other drugstore brands among the top-selling glow-getters, from L'Oréal to Physicians Formula, along with Ulta's own affordable beauty line. No matter the luminosity you're trying to achieve, Ulta's top-rated offerings are proof that you can do it on the cheap.
Browse a selection of the most-loved drugstore highlighters below, and head over to Ulta's site or store for even more picks that give you the glow you want for less.