9 Beach Outfits That Are Chic Enough To Wear Post-Ocean, Too
@nataliacastellarcalvani on Instagram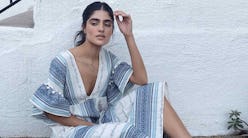 It's easy to get caught up in the stress of swimsuit shopping. Finding a style that's both comfortable and cute enough to meet your standards can take a few tries. But once you've gone through the tedious task of tracking down your swimwear soulmate you're left with another often overlooked question: What about the best beach cover-up to wear with your suit of choice? It may seem like an afterthought, but in fact, it's equally vital. After all, no matter how cute your suit is, the phrase no shirt, no shoes, no service still gets thrown around, even in beach towns. You need something that feels like a bonafide outfit, but still is practical enough to throw on over a wet swimsuit. It sounds complicated, but truthfully isn't.
The best place to start when finding a cover-up is to think back to your day-to-day look. Are you a minimalist? Do you gravitate toward prints? What about textured crochet or tassels? From there, consider cherry-picking pieces from your closet that might still work for the beach, and pair them with more practical swim-friendly staples. Ahead, discover recent beachy looks from stylish Instagram trendsetters for a few cover-up aesthetics that you too can recreate. Once you've found your match, shop the pick to get one step closer to your next waterside rendezvous.
Arts & Crafts
A waterside moment begs for something that let's the breeze blow through, which makes crafty crochet or macrame an ideal choice. As a bonus, it lets a bit of your suit peek through making for maximum style with not a whole lot of effort. Finish with a bucket hat and slides and you're good to go.
Print Master
Whether it's a sarong or a kaftan, try finding a piece with a print that contrasts your favorite swimsuit. Since summer is all about going bold, try a super-size print, like the seashell and coral pattern above.
Minimalist
If you gravitate toward solid neutrals and streamlined silhouettes, then reach for something simple, and unfussy. A simple slip dress, soft linen robe, or simple ribbed tank is all you need to throw on post-swim.
Bohemian
An embroidered dress with wide sleeves and a long hemline is the ideal piece for a relaxed swim-to-dinner look. Simple slide sandals and a woven bag are equally handy transitional pieces.
Romantic
Summer is a perfect season to embrace your romantic side, even when it comes to swimwear. Opt for a suit with a ruffled top or layer a float babydoll blouse over your bikini.
Classic
Give your poolside look an Americana touch with red, white, and blue separates worn with straw accessories. While it will surely work on the Fourth Of July, it's a styling choice that works well all summer long.
Sporty In The Sun
If your personal aesthetic errs toward a sporty, streetwear-inspired vibe then grab a pair of drawstring shorts and a bucket hat to wear with your bikini.
Polished Traveler
If you're heading to grab groceries or to go on a quick bike ride and don't want to change out of your swimsuit, grab a long wrap skirt or relaxed linen pants for a polished-yet-beachy look.
West Coast Ease
Embrace a California-inspired vibe with an easy, breezy tunic or button-down shirt. Go for the shirt alone while grabbing snacks at the beach, then add denim shorts when you head into town.