Here's Where Insiders Buy Their Nylon Prada Bags & Philo-Era Céline Purses
The RealReal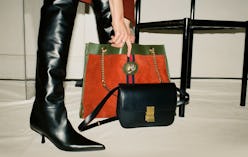 If you ask shoppers which of the best bags on The RealReal are, in fact, the best, you'll probably get one of two answers. Some look for the iconic designs that anyone (fashion lover or not) will recognize instantly: the Birkin bags of each brand. Others have their hearts set on the bags they see pop up time and time again across the street style community — like the Chloé Faye bag, or Dior's Saddle bag.
And fundamentally speaking, there are two ways to shop on The RealReal, an online consignment store that authenticates its luxury goods before they ever reach your doorstep. You can use it to save hundreds (and sometimes thousands) on used, yet still on-trend bags while they're coveted across the fashion community; like this cognac Chloé Faye bag, which retails for $1,095 on The RealReal — a pretty penny less than its regular $1,950 price.
Or, you can turn to The RealReal's selection of vintage pieces. Buying older used designer pieces can easily become investment pieces if you play your cards right. Certain shapes and fabrics have a funny way of going out of style for a decade — then smashing back into focus. Just look at the nylon Prada bag phenomena: The '90s fabric went from immensely popular, to regularly trendy (after all, any of the nylon bags were still Prada), to a must-have style again, all over the course of a few decades. And you never know which bag you have in your closet — or currently listed on the cheap at The RealReal — will be next to cycle through the fashion community's closet.
Of course, you can always shop for the bags that continue to grow in popularity, decade after decade. The RealReal's selection of Birkin bags will make any high-end bag lover swoon; the price tags may as well, for a whole different reason (hello, $47,500 crocodile purse). This Hermès Togo Birkin 35 has a similarly impressive impact, for much less. On sale for $9,500 on The RealReal, its just enough below its regular estimated retail price of $11,900 to sway shoppers looking for their own Birkin.
Whether you need whichever bag is on everyone's arms during fashion month, or want one purse to carry for the rest of your life, The RealReal has your back. Ahead, 11 classic bags on sale at The RealReal everyone can probably agree are the best of the best.