This $8 Tool Gives Me A Perfect French Manicure At Home
Steve Granitz/WireImage/Getty Images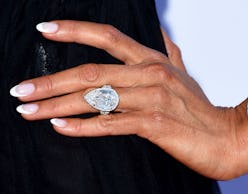 Coined in the late '70s by Orly nail polish founder Jeff Pink, the French manicure was a distinguished turning point in beauty history. However, as the years flew by and nail trends progressed, its popularity began to wane in favor of more modern and often more ornamented nail designs. But everything old becomes new again, and that's ringing true with the recent and rapid resurgence of those iconic exaggerated tips. And while it may seem difficult — and messy — to recreate for a nail art novice, the best at-home French manicure tips prove that you'll never have to step foot in a nail salon again.
However, unlike 30 years ago, French manicures are now marked by creativity, intricate shapes, and gentler lines. "There are so many different ways you can do a French to modernize and often times simplify the look," Chaun Legend, celebrity nail artist to Kylie Jenner, Lala Anthony, and Khloe Kardashian tells TZR. And while most of us can't imagine ever perfecting a steady hand, the reality is we don't have to. "French manicures are special because they can be classic or be deconstructed," Kia Stewart, editorial and celebrity nail artist and founder of 1209 Wellness Nail Studio in New York City says. "You can add lines, you can do ombre, you can add embellishments the sky is truly the limit."
So if you're ready to tackle a feat that even the most-skilled of beauty lovers have yet to overcome, try these three easy-to-follow steps straight from celebrity nail artists.
At-Home French Manicure Tip: Find A Base That Compliments Your Skin Tone
Before the tip is created, create a base to the manicure with a flesh-toned polish. "Always find a nude-ish base color that corresponds with your skin tone," Stewart says. "My favorites are PearNova Novacaine for warm skin tones and OPI Samoan Sand for cool skin tones."
At-Home French Manicure Tip: Tip Time
As nail art has advanced, so have the tools available for making French tips completely foolproof — but Legend prefers to the old school way. "This is how I was taught when I learned it centuries ago," Legend says. "There are these adhesives that allow for you to create the perfect arch without having to hand paint it. You simply place the sticker in the desired spot based on how thick you want the tip, and you paint on the space above with the tip color. Then let it dry, and lift it. It's that simple." However, if you're up for the challenge, Stewart suggests patience above all. "Use a thin liner brush and use small strokes to create the classic signature outline, that's the key! This acts as a guide for when you fill the shape in with the color of your choice. Use a clean up brush with acetone to remove any mistakes you make or further perfect your curves."
At-Home French Manicure Tip: Jazz Up The Look
French manicures aren't one-size-fits-all, and you can experiment with colors, nail shapes, and different curves. "Add flair by mixing neutral colors with a bright color, adding texture — such as dots — to the French, or add a little sparkle to make it more signature to your style," Stewart says. "Have fun with it to keep it interesting and creative."
Legend agrees, notorious for his unconventional takes on the classic style. "For me, I like to do like a deep arch rather than a smaller and rounder arch," Legend says. "It starts a little higher on the side and then drags downwards for a more dramatic look."
French Manicure Trend: Box Tips
Legend also likes to play around with what he calls "Box Tips," where he applies an ultra-thin line of polish at the top of the nails to create a straighter edge. To recreate this look, simply apply your stick with very little nail above exposed.
French Manicure Trend: Double French
Stewart created not one, but two French looks. The outer, a coral and curved style with white accents, and the inner a swipe of metallic gold.
French Manicure Trend: Multi-Colored V-Tips
This literal rainbow of colors collided for this perfect-for-summer neon look. "You can try what I call it 'V-Tips' because it mimics a V," Legend says.