The Shoes That Stole The Show At The Oscars
Andrew H. Walker/BEI/Shutterstock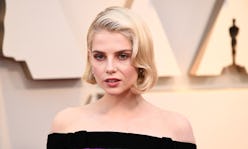 While Sun.'s Oscars red carpet was filled with gowns that delivered enough inspiration to carry you through spring and summer, the shoes were also something to marvel. Beneath every glamorous ensemble was an equally (if not more) glamorous shoe, and The Zoe Report staff took notice. This is probably due to the fact that while red carpet gowns aren't as easy to emulate in real life, footwear is another story. In fact, many of our editors' favorite shoes from the 2019 Oscars can probably be worn with some of spring's trendiest ensembles.
In the event that you missed the fancy footwear walking the award show red carpet, here's a quick rundown: It was quite the mixed bag. Classic sophistication in the form of strappy stiletto sandals were in full attendance, thanks to stars like Ashley Graham, Laura Harrier, and Brie Larson. Graham's pair (designed by Sophia Webster) was particularly dazzling, thanks to the rhinestone heel that delivered a uniquely chic edge.
Also in focus were ultra-trendy platforms, as seen on celebrities like Lucy Boynton and Jennifer Lopez. Boynton wore them in an especially memorable fashion; she paired her black platform sandals (also by Sophia Webster) with a violet off-the-shoulder gown with black piping that read very '70s (a possible nod to her Oscar-nominated film Bohemian Rhapsody).
Also noteworthy was Regina King, who arrived in a head-to-toe white ensemble that was as glam as they come. Topping off the monochromatic look was a sleek pair of white Louboutins, the classic cherry atop a perfect sartorial cake.
Now that you've been briefed on the highlights, it's time for the main event. Ahead, see the shoes TZR editors will be raving about (and wearing) well into the spring season.
Regina King In Christian Louboutin
"What heels do you wear with a dramatic, thigh-high slit gown? Matching Louboutin pumps, of course." — Madge Maril, Shopping News Writer
Ashley Graham In Sophia Webster
"Sophia Webster is one of my favorite shoe designers ever, so it was not a surprise that Graham's shoes stole my heart (and probably my wallet, since they're still available!)." — Angela Melero, Senior West Coast Editor
Jenny Mai In Manolo Blahnik
"Jeannie Mai's Oscars look was white and sheer from head to toe (literally). The strappy PVC Manolo Blahnik heels that peeked out from underneath her zip-up pant leg matched that half-see-through suit so perfectly." — Olivia Young, Celebrity Writer
Giuliana Rancic In Jimmy Choo
"Bedazzled shoes are having a moment, and I'm so here for it. This pair from Jimmy Choo is a beautiful addition to Giuliana Rancic's look with the perfect amount of glamour and shine." — Anna Buckman, Shopping News Editor
Lucy Boynton
"Although her gown offered only a glimpse of her shoes, I fell hard for Lucy Boynton's velvet pumps. Her style is inherently edgy, so crystal-adorned heels by Sophia Webster (which, unfortunately, are no longer in stock) felt like a true match for the actor." — Ruby Buddemeyer, Associate Celebrity Editor