The Most Memorable Beauty Looks From New York Comic Con (So Far)
Ben Gabbe/Getty Images Entertainment/Getty Images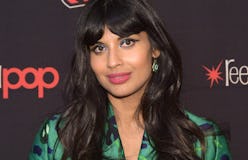 Sure, you can mine plenty of celebrity beauty inspiration just by turning on your TV during awards show season, flipping through your favorite glossy magazine, or scrolling pages of runway pictures post-fashion month. However, the best 2019 New York Comic Con beauty looks will excite any makeup aficionado just as much. Taking place Oct. 3 through Oct. 6 in the Big Apple, the event garners more than a fair share of celebrities; including Jameela Jamil, Betty Gilpin, Jennifer Connelly, and more this year alone.
For those unaware of what exactly New York Comic Con entails: think interviews, enviable sneak peeks (like an advanced screening of The Walking Dead's Season 10 premiere), and panels. Lots and lots of panels. This is where a majority of the fan-favorite actors, creatives, and industry veterans make their appearances, often spilling details about new projects — much to the delight of those lucky enough to attend. For instance, Jamil stopped by the con to discuss her upcoming game show The Misery Index at the panel "Impractical Jokers: From Staten Island to The Misery Index and Beyond."
But whether you're attending the festivities this year or not, you can still take note of all of the most memorable beauty moments. Below, six stunning looks from the 2019 New York Comic Con you'll want to copy for yourself.
Brianne Tju
Light as a Feather actor Brianne Tju stunned at Hulu's Huluween Celebration at New York Comic Con, opting for a pale-blue, graphic liner that matched one of the many shades found in her dress.
Betty Gilpin
Betty Gilpin gave fans a lesson in minimalist makeup styling at the con's panel for The Grudge — pairing her black-and-white outfit with a simple warm smoky eye.
Jameela Jamil
On the other hand, Jameela Jamil's New York Comic Con look was all about being bold. The actor (and soon-to-be game show host) complemented her signature cat-eye liner with a dose of blue sparkle.
Sonequa Martin-Green
Leave it to the Star Trek: Discover actor to remind you of a lipstick color your collection may be missing. This time, Sonequa Martin-Green wore a deep, metallic red that popped brilliantly against her detailed white blouse.
Andrea Riseborough
Likewise, Andrea Riseborough's satiny red lipstick was the perfect pop of color against her pale tan top and soft blue jeans — and just so happened to match her shoes to a T.
Jennifer Connelly
While it's hard to choose, the true star of Jennifer Connelly's New York Comic Con ensemble was her hair. Worn straight as can be, the actor's brunette locks looked particularly edgy paired with her paneled-leather outfit and utilitarian boots.