How To Fake An Island Glow This Weekend (Even If You're Staying Home)
Monica Schipper / Stringer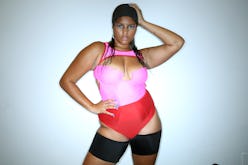 When you think of body makeup, you might have flashbacks of the roll-on body glitter that you snuck into your backpack in middle school. But be not dismayed: 2019s best body makeup products aren't reminiscent of your Limited Too fave from the '90s. These days, they come in grown-up variations including concealers, oils, and highlighters that give you the ultimate sun-kissed glow — just in time for summer.
So how did body makeup go from the hallway to Hollywood? "I think going off of the glass skin trend, we're seeing that translate down to the body," celebrity makeup artist Neil Scibelli tells The Zoe Report. "We're paying more attention to skincare for our neck and body lately, so I'm seeing — and creating — that healthy glow on my clients all over, not just the face. I think it's also just nice to treat the body to a dose of hydration. We can all use that"
In fact, Patrick Ta, the celebrity makeup artist who works with the likes of Bella and Gigi Hadid, recently launched his own line of products that give a gorgeous glow — and body makeup is definitely the standout offering. At a New York City launch event in March, I personally saw him apply the Major Glow Body Oi to his models using a brush to buff it in giving them a head-to-toe glow. It was, in a word, mesmerizing.
It's relatively easy to incorporate body makeup into your regular routine, as Dr. Shari Sperling of Sperling Dermatology in New Jersey, tells TZR. The NJ-based dermatologist explains the steps to properly apply body makeup. "Exfoliating the skin first will allow your makeup to apply smoother," Dr. Sperling explains. Follow up with moisturizer, top off with sunscreen, and apply makeup last. And if you're prone to breakouts, look for products that are oil free and non-comedogenic to avoid breakouts, she notes.
Body Shimmer & Highlighters
As summer is rapidly approaching, it's the ideal opportunity to experiment with a body highlighters to give yourself some extra glow — as they are *basically* sun in a bottle. These highlighters are intended to be applied with your hands or buffed in using a brush to the arms, legs, shoulders, and collarbone... no need to be delicate, as you would with your face.
Body Oils
"I also use body oils for fitness shoots and photoshoots. They don't have to be any particular brands," Scibelli explains. "Body oils reflect light, hydrate, and always give that glow." Whether you lean towards a subtle glow or an all-out intense finish, there's an oil on the market for you.
Body Blur & Foundation
Though you may be able to get away using foundation on your body, the two products vary in multiple ways. "Body makeup differs from face makeup because of the formula consistency. They're usually sheer, buildable, and water-based," Scibelli explains. "With face makeup, there are so many different finishes — whereas with body makeup, I always start with a formula that has no shimmer or finishing additives, until needed."