The 5 Best Fashion Moments At The Emmys (Including A Hidden Gown Handler)
Frazer Harrison/Getty Images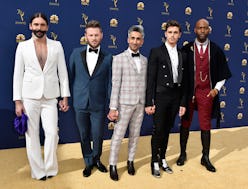 So you've had the chance to check out all the head-to-toe looks from the red carpet, but the most memorable fashion from the 2018 Emmy Awards deserves its own recognition. No matter which Hollywood star won best dressed in your book, there were plenty of noteworthy fashion moments that didn't just look good, but brought the feels, too. Both on the golden carpet and behind the scenes, you had to keep an eye out for the moments that went beyond your typical step and repeat pose.
While in everyday life, celebrities spend their days in jeans and yoga pants (because, at the end of the day, everyone wants to be comfortable), come award show night, it's all about sky-high heels, dramatic dresses, and mega-watt jewelry.
And with so many great looks coming down the carpet, it can be easy to miss something truly memorable. So, consider this your opportunity to revisit those beautiful (and sometimes funny) moments that deserve their own moment to shine.
From fully appreciating Tracee Ellis Ross' stunning couture gown, to admiring the smart suiting of the Queer Eye for the Straight Guy's fab five, these are the fashion moments from the Emmy Awards that you don't want to overlook.
Below, find a breakdown of five key award night style highlights that you may have missed on your first go-around, but now you'll be thinking about these all week long ... if not until the next big red carpet on the calendar.