Tracee Ellis Ross' 2018 Emmys Dress Looked SO Different On The Runway
Vittorio Zunino Celotto/Getty Images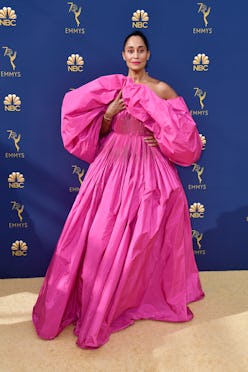 When she arrived at the 2018 Emmy Awards, Tracee Ellis Ross' statement-making Valentino Haute Couture Gown turned heads. But, what you might not realize is how different the sweeping magenta gown looked on the Valentino runway this past July. During the July 4th Valentino Haute Couture show, designer Pierpaolo Piccoli sent models down the runway in gowns with color-coordinated headpieces. In the case of Ross' dress, the model wore an entire headpiece made of colorful orchids. For the red carpet, Ross opted to skip the headpiece and let the dress shine all on its own.
Though many red carpet dresses are curated entirely by a celebrity's stylist, Ross actually sat front row at the Valentino Haute Couture show, and had the chance to see the high-volume gown up close before she chose it as her red carpet look.
"It was one of most breathtaking things I've seen in my lifetime," Ross said after the show according to The Hollywood Reporter.
Ross wore Repossi jewelry with her gown, as noted in an Instagram post by stylist Karla Welch. As for her makeup look, Ross went for bold on bold, choosing a bright pink lip and orange lid by Charlotte Tilbury.
Ross On The Emmys Red Carpet
Ross Front Row At Valentino Haute Couture Fall Winter 2018/2019
The Valentino Haute Couture Fall Winter 2018/2019 Show
On the runway, models wore elaborate headpieces with the sweeping gowns.
Talk about accessorizing! The stunning Valentino gown and coordinate orchid topper were a bold combination.
Watch The Fashion Show In All Its Glory