You Haven't Seen Dior's Spring 2020 Collection Like *This* Just Yet
Courtesy of Dior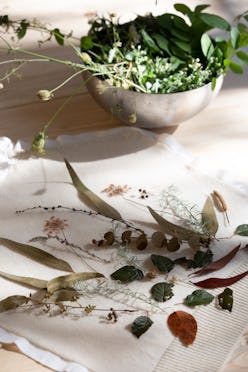 "Fortunately, there are flowers." A standout quote from Christian Dior himself, that to Creative Director Maria Grazia Chiuri was a sign of hope at the end of World War II. Taking today's current climate into account, Chiuri designed the Dior Spring/Summer 2020 runway collection as an homage to the life and legacy of Monsieur Dior's sister, Catherine Dior. A war resistance fighter-turned-gardener and botanist, the "Miss" of "Miss Dior" was a source of inspiration for Chiuri in more ways than one — which is reflected in the eco-printed floral patterns of the new collection.
Marrying this idea of nature and design to create pieces that are both environmentally responsible and chic, Chiuri revisits the founder's vision of co-existence through a sustainable artisanal technique known as eco-printing. The collection itself debuted in Paris earlier this week and was filled with soft, delicate florals that are the result of the age-old practice. Intricately detailed on the surface of well-tailored outerwear, beautiful dresses, and feather-weight knits, alike.
The delicate process of eco-printing is perfectly embodied in the lineup's slouchy sweater, as seen in the first half of the collection, from the runway, as well as the free-flowing slip and halter-neck maxi dresses featured in the looks that followed. Styled to a tee, both frocks were cinched with what is bound to be Dior's cult accessory for spring: a rope-inspired belt that falls right in line with the underlying garden theme.
Pascal Le Segretain/Getty Images Entertainment/Getty Images
Pascal Le Segretain/Getty Images Entertainment/Getty Images
While there were several examples of eco-printing fluttering throughout both the ready-to-wear and accessories offerings, if you look closely, you'll notice that the patterns very in design — as the selection of hand-picked flowers used depends heavily on the item being commissioned. So, how does eco-printing work? In technical terms: Living plants are pressed onto mesh, and then heated to transfer its pattern onto fabric, in turn reducing the amount of excess that comes with producing prints. And the result is just as ground-breaking as you'd expect.
It's no secret that Chiuri is a proponent of redefining Dior's distinct ultra-feminine aesthetic. Season after season the designer uses her collections to propel conversations around some of the world's most pertinent issues. But for spring '20, her approach was much more subtle — "show trees" aside. It made sense that she would swap her bold slogan tees for artisanal techniques, given the call to action against heightened contemporary challenges.
"The important issue for everybody, not just in fashion, is to be more responsible about what we do," Chiuri told Agence France-Presse in a post-show interview. "It is not just about image but action... the important issue for everybody, not just fashion, is to be more responsible about what we do," she added.
In short, Dior's new collection was centered around practicing what you preach — acknowledging that everyone has a responsibility to do their part in igniting the change you want to see in the world. And if the house's latest runway show is any indication, Chiuri is proving that while looking at the past, you can in turn prepare for a better future.