Dior's Spring 2020 Runway Was A Tribute To The Ground We Walk On
PIXELFORMULA/SIPA/Shutterstock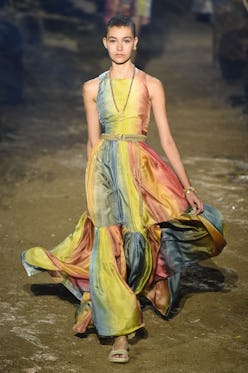 Dior Creative Director Maria Grazia Chiuri is no stranger to using her platform to make a statement. Last season, that came in the form of slogan tees, a Chrissie Hynde-lead soundtrack, and a through-line of overt nods to feminism. And for Dior's Spring/Summer 2020 runway collection, presented at the Paris-Longchamp Hippodrome on the afternoon of Sept. 24, Chiuri found inspiration in an issue that felt more relevant than ever: climate change.
Show attendees were greeted by an enchanting set made up entirely of stand-alone trees, each of which would happily live on well after the show; the design house worked with Paris-based landscape design collective Coloco — who helped plan and redesign outdoor spaces like Montreuil's Rue des Jardins Dufour, as well as the Metropolis of Aix-Marseille-Provence — who would spend the days following the show planting these trees all over the city. Additionally, the entire set complied with the brand's zero-waste policy, which means everything from the dirt-path-come-runway to the hanging tree markers, the latter of which were emblazoned with the hashtag #PlantingForTheFuture, were both recyclable and plastic-free. (The words "climate change" were nowhere within the show notes, but it wasn't hard to glean where Chiuri was going with it.)
Of course, even though we're arguably at peak sustainability-wokeness, the collection's theme was a risk. It came just one day after Greta Thunberg delivered an impassioned speech to world leaders at a United Nations summit, and could have felt like a PR trap if only Chiuri wasn't always so eager to start a pertinent discussion.
"Conceived as an 'inclusive garden,' [the collection] questions the place and role of living creatures on our planet," the show notes said. "This is demonstrated by the scenography: a traveling grove designed with landscaping collective Coloco, the trees from which will continue their life journey after the show to enrich and preserve, like a pluralistic garden, the biodiversity of wooded spaces and other sustainability initiatives." That theme played out on the runway, too, which opened with a somber, string- and piano-forward sonata soundtrack.
Inspired by Catherine Dior, Christian Dior's sister and avid gardener, Chiuri presented florals in myriad iterations: First, embroidered on a tan midi dress that was layered atop an easy-wearing blue button-down, and later, as appliqués on a series of signature tulle gowns.
Other standout pieces include an impossibly flowy gown in an exaggerated rainbow ombré, as well as a line-up of pleated, subtly printed midi skirts that could find a home in just about any closet. There were a handful of bleached denim looks, which included a boiler suit, romper, and a pair of oversized drop-crotch pants with a matching button-down; the pattern carefully toed the line between acid wash '80s and modern marble.
Many of the looks were topped off with straw cloche hats, which could have skewed kitschy if it weren't for the masterful tailoring of each look that made the collection unmistakably Dior. (The perforated combat boots and triple-wrap belts with the signature CD didn't hurt, either.)
Overall, Chiuri presented a Spring 2020 collection that was at once of-the-moment and timeless, proving once again that she not only has the kind of foresight it takes to do a job as big as hers — but even more so that she can continue to do it well.