THE ARRIVALS Is Having A Huge Sale & You Need This Leather Jacket Immediately
COURTESY OF THE ARRIVALS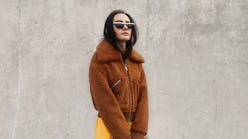 Now a few weeks into spring, you've either packed up your puffers and sent your coats to the cleaners or you're eagerly waiting to do so. However, before you completely push the thought of outerwear from your mind, take note: THE ARRIVALS' End-Of-Season Sale is here and it's *really* good. In fact, the savings on its luxe styles are so incredible, it might just have you prioritizing picking up those cold-weather pieces you thought you were done with until next season.
The brand that created a cult-like following with its coveted outerwear is gifting all of its fans with a major sale that kicks off on April 10. During THE ARRIVALS' sale, a selection of layering styles, accessories, and best-selling outerwear pieces will be available for up to a whopping 60 percent off. So yes, this end-of-season event is one that'll have you happily thinking of adding another coat to your closet in the middle of spring.
If you know and love THE ARRIVALS, the first question you likely have is if the beloved Rainier, Kala, and Moya III Teddy are included in the mix of markdowns. And you can get your credit card ready to flex its shopping muscles, because they are, in fact, all up for grabs at discounted prices during the sale (cue the applause).
For those who've been eyeing the Moya III Teddy since its arrival back in September, now is your chance to scoop it up while it's reduced from $1,195 to $956. As for the Kala? While the $895 price tag may have prevented you from purchasing the teddy bomber previously, you can now bring the easy-to-wear silhouette into your wardrobe for $627.
Or perhaps it was the $795 cropped shearling Moya Mini that you've been lusting over all winter long. If that's the case, now you can snag it for next season while its price is slashed to $557 thanks to the sale.
Of course, there are several styles within the sale you'll be eager to slip on right now to get you through the transitional weather and to have on hand for chilly evenings. One of those styles is the classic black leather Rainier moto jacket with a removable shearling fur collar. This timeless staple is only $557 during the sale (originally $795) and will undoubtably become one of the most worn items in your wardrobe.
Continue on to score these standout styles and more on sale below. Then, head over to the site to shop the rest of the markdowns before they're all gone — because it's not going to take long.