The Trendy Winter Coat With A 900-Plus-Person Waitlist Is Finally Available To Shop
Courtesy of The Arrivals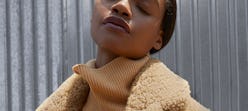 Thinking about your winter wardrobe is not something you may want to address just yet, given that sweaters are just starting to make an appearance. However, waiting until the last minute (aka when the snow starts to fall) to shop for your cold weather coat is ill-advised, especially when when you run the risk of missing out on the best styles of the season. Case in point: this teddy coat had over 900 people on its waitlist before it was available to purchase, so chances are the highly-coveted, new iteration of a favorite style from The Arrivals won't be around for long.
Yes, the time has come — the wildly popular Moya coat has been re-imagined in a teddy shell and the sheer number of customers on the waitlist shows that it has not gone unnoticed. What's all the hype about? The Moya III Teddy (available to buy now for $1195) has that same slouchy, oversized fit as the wildly popular original Moya (the shearling style you've seen all over the 'Gram), but with a soft teddy shell.
Made with 100 percent Turkish shearling, the details of the brushed aluminum zippers and custom Italian snaps make it not only an attractive piece of outerwear, but one that will stand the test of time.
With its natural teddy brown color, the coat combines both fashion and function, which is not an easy task given often one is compromised for the other in outerwear. Not only does the Moya III Teddy look great, it's also made to keep you warm and dry. Designed and tested to endure extreme weather conditions, it's supposed to keep you toasty when the temperature reads below 30 degrees and help you embrace the elements with its water-repellent finish.
This chic coat is not the only new addition to The Arrivals family. It's joined by two other styles, the Kala and Koda, to make the five-piece Teddy collection. Each style has its own distinct silhouette and vibe so it won't be hard to find one (or more) to lust after. If you're looking for a cropped fit, you may like the Kala, a teddy bomber that's available in the colors natural teddy brown and light stone. However, if you're in the market for a longer silhouette, the Koda may be more your speed. Oversized and perfect for layering, this piece comes in two neutral shades that make it easy to pair with all your outfits.
Due to the brand's popularity, this is not a launch you will want to wait on. Start shopping the Teddy collection below.