How Murchison-Hume's New Jewelry Cleaner Works Without Ever Irritating Skin
Ariel Gordon Jewelry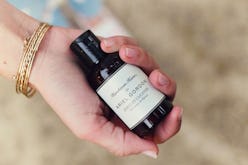 If you're someone who gets a lot of wear out of your favorite jewelry, donning the same precious pieces day after day, you've probably noticed that over time they tend to lose their luster. And sure, you could take them into your local jeweler for an expensive cleaning, or soak them in a vat of synthetic chemicals, but now there's an easier (and cleaner) solution. Jewelry designer Ariel Gordon's Murchison-Hume Jewelry Cleaner is now available, and it promises to return all your favorites to their former glory — without all the harshness of standard sparkle-restoring cleaning agents.
Fine jewelry brand Ariel Gordon and high-end home cleaning product collection Murchison-Hume have come together for one important cause: To get your fine gold and diamond jewelry back to its shiny, sparkly self. The two have come together to release a $12 travel-size, all-natural jewelry cleaner, which officially launched on March 12 on both brands' sites. And as you'd expect from a couple of Los Angeles-based brands, this cleaner is all about getting the job done in a healthy, clean way (aka, without the use of icky ingredients).
The liquid formula, which comes in a TSA-friendly two-ounce bottle, is completely free of ammonia, formaldehyde, bleach, synthetic dyes, parabens, phthalates, waxes, silicones, and polymers. Instead, the plant-based cleaner uses naturals oils and mild emulsifiers, including safflower oleosomes, to preserve your jewelry and make it shine like new.
"Jewelry is something that touches your skin all day long. Over time it becomes a part of you. You wouldn't wash your body with harsh chemicals so why would you want to wash something that touches your body with something you wouldn't put on your skin?" Ariel Gordon said in an official statement. "The AGJxMH jewelry cleaner is the perfect, gentle way to remove dirt from daily wear without irritating your skin."
And it doesn't hurt that the brand-new cleaner couldn't be easier to use. Give the bottle a good shake before applying the formula directly onto your dull jewelry, then rub with your fingers (or gently scrub with a soft toothbrush for super-dirty pieces). Rinse the cleaner off with warm water, and buff dry — a pure cotton towel or microfiber cloth is best. That's all there is to it; put your pinky ring and slinky bracelet back on and walk right out the door.
Below, check out the California duo's newly-launched product, and snag a bottle for yourself to amp up the shine on all your go-to's. And don't be surprised when someone asks if you recently invested in some stunning new pieces.