Gabrielle Union's Iconic Halloween Costume Is Super Easy To Copy
Moviestore Collection/Shutterstock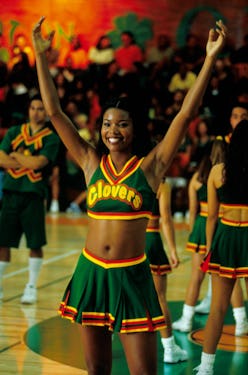 According to social media, Halloween has been a week-long occasion. Which means you're likely still trying to figure out what to wear, come Thursday and the best celebrity Halloween costumes for 2019 will help provide you with some very stylish inspiration on the actual day. Not to mention, they are all fairly easy to recreate. You may even have some of the pieces already living in your closet.
From retro looks and cartoon characters to celebs dressing as other celebs, the best costumes worn by famous faces this year all have an instant wow factor. And while there are surely even more incredible outfits to come, if you're still in need of a costume, continue on for five of the top celebrity costumes you still have time to copy for Oct. 31.
Cindy Crawford
If you follow Cindy Crawford on Instagram you know that when she does a costume she doesn't overlook the details. This year the super-model went full on '70s disco vibes in a sparkly jumpsuit and retro octagon frames. Take a cue from Cindy and top of your look with a wide-belt and a set of danglers.
Amber Valletta
Amber Valletta dressed as another very famous model for her costume this year — the super-model went as Twiggy to a Halloween party. You can easily recreate this look with the help of a vibrant, printed mini-dress and playful jewelry. Don't forget to layer on the eye-liner and really make your lashes long to achieve Twiggy's iconic eye look.
Gabrielle Union-Wade
Gabrielle Union is giving major '00s nostalgia by recreating her look as a Clover from that cheerleading movie everyone loves — Bring It On (with her mini-me in tow.) All you need to copy the look is a pleated mini and coordinating sports top with high tube socks and your favorite white sneakers. The bow is optional.
Ashley Graham
The mom-to-be was looking sultry in her Jessica Rabbit costume, donning a body-hugging red dress with purple long gloves. If you're loving this look, all you need is a fitted, long red dress and a set of gloves like this pair from Target, which are up for grabs for just $10.99. Pull the look together with a sweeping hairdo and a powerful, cherry-hued lip.
Halsey
Never one to shy away from a costume, Halsey has already been spotted in two this Halloween season. And while her Marilyn Manson ensemble takes a little more prep, you can easily recreate the chic Cher look she sported on the red carpet for FX's American Horror Story 100th Episode Celebration. Complete the costume with a bold eye and a sleek black wig.