It's Raining At Paris Fashion Week, So Stylists Are Giving Models *This* Look
PIXELFORMULA/SIPA/Shutterstock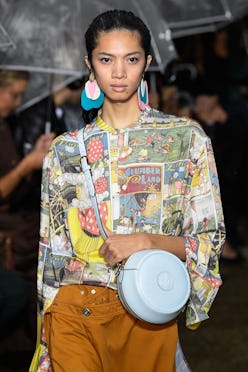 There's something almost poetic about Paris when it rains. Perhaps it's the way that the stormy clouds ensconce the majestic monuments, or seeing chic Parisians with umbrellas. During fashion month, however, is when the rain can be more problematic than poetic. But 2019's wet hair trend is one that Paris Fashion Week stylists are embracing backstage amid misty weather — so if a few errant raindrops do happen to make contact, it's no big deal.
At Lanvin Spring/Summer 2020 on Sept. 25, the show was actually held outdoors (at the Quai Branly garden, to be exact), which actually fit in perfectly with the theme that creative director Bruno Sialelli had in mind for the day's presentation. "In the past two seasons, there's been a romanticism and dreamlike element to the girl," lead hairstylist Duffy notes. "Today is literally a walk in the park. It's tough, '90s, slightly wet-looking hair with strong silhouettes" — a juxtaposition to the soft, "fantastical" pieces shown on the runway.
However, getting the look required "doing stuff that's not that great," Duffy laughs — which means loading on a ton of product. "We're blow-drying L'Oréal Tecniart Pli, which builds the bones in the hair and creates texture. It's like a traditional blow-dry lotion, but by overloading the hair, you create a slightly rougher, tougher texture." Once Pli was applied, he filled the hair with with Kiehl's Silk Groom Serum, which contains sesame and sunflower oil. "Then this is the part no one's going to really like," Duffy warns. "We then tong — or flat iron — over the top of it. which isn't probably the best thing for hair. But Silk Groom has conditioning elements to it, so there's payoff between the two."
Once the spray and serum was in, he layered in Supremo Magic Move, a matte wax, through the roots to give it direction. "Then all we're doing is dragging fingers through it for volume and texture, picking sides, pulling it back, and tying it off, essentially, to secure the hair." If you're concerned about product overload, fear not: Duffy says that he specifically chose options that are light on alcohol, which cuts back on heaviness and flaking.
Over at Mugler Spring/Summer 2020, though, the designs were a bit tougher, which is what lead hairstylist Jawara took inspiration from. "This is a b----y look," he says. "This is a really cool girl or guy who owns the room, owns their space. They command a space in the room. You kinda want to be them, but you kind of hate them at the same time. But you are them, sometimes, in certain atmospheres."
The clean, slick look was achieved with plenty of Got2b Glued Ultra Gel, layered in to create ridges on the sides. And those who wore ponytails (accented with 10-pound jeweled accessories!) were misted with Fantasia Liquid Mousse Spritz Spray to create dazzling shine. "This makes it look tough," he says.
If you're not in Paris — or, you know, in the chair of these two superstar artists — keep scrolling to shop the hero products for both looks.