The Grammys Red Carpet Was Filled With Next-Level Beauty Looks
Rich Fury/Getty Images Entertainment/Getty Images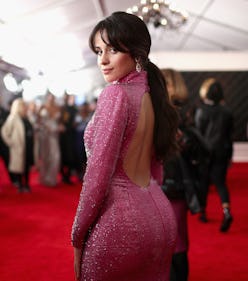 Yes, the Grammy Awards are known to deliver some truly iconic and outrageous fashion moments each year (here's looking at you, Jennifer Lopez). That said, the beauty looks are worth a discussion as well. Just like the glitzy, over-the-top ensembles, makeup and hair allow artists to express themselves in a unique and fresh way. Case in point: The 2019 Grammys makeup looks delivered some seriously aspirational glam.
Yes, the stars were truly out to play this year with some of the biggest beauty trends of the season (and next). From Kacey Musgraves' monochromatic pink makeup to Eve's pumped-up half pony, spring beauty trends were on full display. The best part is, a majority of these looks (or versions of them) are actually very easily recreated at home.
One of the most memorable looks of the night came from Camila Cabello, who donned adorable curtain bangs with a low, wavy pony that delivered some serious Brigitte Bardot vibes. Another star who was noticeably en vogue this year was Ashlee Simpson, who dazzled with her sleek and unique ponytail and radiant, dewy makeup look. Simpson, who is becoming a style icon in her own right, proved she's only picking up steam with her evolving looks.
And that's just the beginning. Ahead, see the beauty looks that turned all the heads this year and made everyone think: Should I try that look this season?
Lady Gaga
Gaga's exposed roots gave her beauty look the perfect amount of edge, especially when coupled with her thick smoky eye.
Jennifer Lopez
In typical J. Lo fashion, the singer topped off her already extravagant look with an incredibly long ponytail.
Katy Perry
Perry kept it relatively simple when it came to her hair and makeup, softly complimenting her gown with a wash of pink eyeshadow.
Lilly Singh
Accessories were in full effect for Singh, who doubled down on the barrette trend.
Nina Dobrev
A jewelry-adorned Dior headband was the star of Dobrev's stunning look.
Ashlee Simpson
The reality star gave the traditional slicked-back pony an upgrade with silver, bedazzled accessories.
Kacey Musgraves
The country singer went for a stunning ethereal look, pairing a soft pink eye with a velvety rose lip for a monochrome look that screams spring.
Camila Cabello
The Cuban singer proved wispy curtain bangs and a low ponytail are the ultimate red carpet combo. In lieu of accessories, Cabello dressed up her pony with a little wrap action for a simple yet chic finish.
Eve
Eve made a case for the pumped-up half pony.
Maren Morris
The country star jumped on the ponytail train and took it to new heights.
Dua Lipa
The British singer's nude makeup paired nicely with her sleek bob.