Tatcha Just Brought Back Its Cult-Fave Lip Mask (& It's Even More Moisturizing)
Courtesy of Tatcha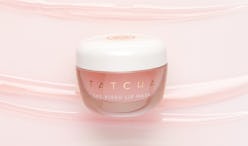 Skincare fans, the moment you have waited an entire year for has finally arrived: Tatcha's Kissu Lip Mask is back. And if you'd been counting down the days until it returned, know that you aren't alone — according to the J-beauty brand, the luxe lip mask had accumulated a waitlist of 4,000 eager fans. This was no doubt inspired in part by its eye-catching sell-out status; the moisturizing mask flew off the shelves after being available on QVC for just 13 minutes back in 2018 (and sold out again on Tatcha's own website).
But you don't have to wait one more day to order your own jar of the pout-hydrating jelly. Tatcha's Kissu Lip Mask is officially back on Tatcha.com — and more importantly, ready to ship — as of Dec. 25, with its brick-and-mortar debut in Sephora stores taking place on Jan. 3.
Just now realizing Tatcha ever even had a lip mask? It'll be easy to catch up with the rest of its fans. The $28 leave-on lip treatment features a famously jelly-like texture, which melts onto your skin when you apply it. The formula is both moisturizing and works to repair your lips' skin barrier, so that the added hydration will actually stay put and work its magic. Even better, you can use it while you sleep, and you don't even need to rinse it off in the morning.
There has been a small change to the formula since the mask has been on hiatus, though. Even though the Kissu Lip Mask still uses Japanese peach extract — which soothes and repairs the sensitive skin — the new formula has been tweaked so that it's even more hydrating (no complaints here). In fact, the Japanese peaches may have something to do with why the mask took so long to return: It took one year to re-harvest the ingredient. On top of the fruit, the mask also is made with plant-derived squalane, vitamin-packed Japanese Camellia oil, and Tatcha's Hadasei-3 trio — the very same ingredient found in many of the brand's cult-famous skincare products.
The best part? No waitlists are required now. Below, Tatcha's Kissu Lip Mask, available on Tatcha.com.