Here's How To Get 20 Percent Off These Tata Harper Best-Sellers Right Now
Tata Harper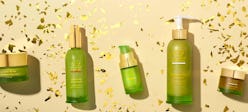 A freshly restocked beauty shelf is a sight to behold. But you know what's even better? Replenishing all your must-haves at reduced prices, of course, because a full bathroom cabinet and a barely-dented bank account is a best-case scenario. So the return of Tata Harper's Big Birthday Sale should make for pretty exciting news, because it means you can scoop up all the brand's luxe clean-beauty bestsellers at a much lower price point. Happy Birthday, indeed.
Every year, natural beauty maven Tata Harper likes to celebrate her birthday in a big way, that just so happens to be to the benefit of everyone else. She marks her latest turn around the sun with a Big Birthday Sale hosted on the Tata Harper skincare site, giving dedicated fans of the clean beauty brand a chance to celebrate together by replenishing their much-loved skin-perfecting supplies. And this year, the savings to be had are seriously exciting.
During Tata Harper's Big Birthday Sale, you'll have the chance to score 20 percent off your order of $100 or more, simply by plugging in the code BIRTHDAY at checkout. The website notes that some exclusions apply, which seems to mostly affect bundles and trial sets, so just be sure you double-check your cart after applying the discount code to ensure your savings show up.
Aside from the noted exclusion or two, you've got free rein to shop across the whole site with savings to be had, so this isn't the time to shy from filling your basket to the brim. Stock up on everything you know you need, like the cult-loved go-to Regenerating Cleanser, $84, and the skin-saving Hydrating Floral Essence spray, $94. When purchased together with the discount code applied, they go down to $67.20 and $75.20 respectively. While you're at it, go ahead and re-up on the bestselling Resurfacing Mask, which you'll score at $52 on orders over $100.
Snag spendier items you haven't felt like splurging on at regular prices, like the super light-weight Hyaluronic Gel Moisturizer that's ideal for plumping skin weightlessly during the hot summer season, and the Elixir Vitae Eye Serum that serves up the most effective wrinkle treatment possible. The moisturizer drops down to $92.80 thanks to the sale, while the eye serum is cut considerably lower to $216. Continue the anti-aging efforts across the rest of your body with the Redefining Body Balm, a firming and hydrating treatment that goes from $125 to $100 with code BIRTHDAY.
Take part in the birthday celebrations by shopping some of Tata Harper's bestsellers, below.