Target Just Added This Cult-Favorite Mascara To Its Shelves — & It's Only $6
John Lamparski/Getty Images Entertainment/Getty Images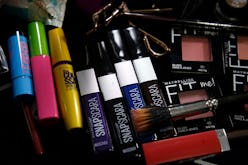 For many years, I considered thick, dramatic mascara to be my thing. No look was complete without two (or seven) coats of the stuff, and I regularly paid more than $20 per tube without blinking an eye — no pun intended. So, if you would've told me back then that one of Target's July 2019 beauty arrivals would be my holy grail mascara, I would've guessed you were 100 percent wrong. While I often supplemented prestige mascaras with drugstore buys (my lashes were coated), I never thought I'd find a formula for under $10 that could transform my tiny, pin-straight lashes.
Enter Maybelline's $5.99 Snapscara Washable Mascara. I'll admit it, I first picked it up after reading about the mascara's cult following; the fact that the wax-free formula washes off with just a few splashes of water and a cotton round was secondary to how it'd make my lashes look. However, although the mascara quickly became my everyday go-to — it somehow gives my short lashes a natural, extension-like look — the ease of removal is my favorite part. Whereas I used to spend minutes scrubbing at my eye makeup, Maybelline's Snapscara rinses off in seconds.
And bringing in a cult mascara is just one step in Target's path toward rapidly elevating its beauty selection. While adding a Maybelline fan favorite to its shelves may not be anything new for the retailer, beauty fans probably have noticed just how detailed Target's cosmetic category now is. Most recently, Target introduced the Target Clean icon to its online and in-store beauty sections — which means that the Target Clean-labeled cosmetics are made without ingredients like phthalates, parabens, and select sulfates. (You can read all of Target Clean's barred beauty ingredients on Target's website.)
So, as you browse all the new beauty arrivals at Target, be prepared to see established cult favorites and intriguing new Target Clean brands — like the zero-waste beauty brand Ethique. Wondering which product will be your new holy grail, though? Keep on scrolling. Eight beauty products recently added to Target's lineup are below — including the washable Maybelline mascara worthy of a spot in your very own collection.