This $42 Outdoor Rug In Target's Sale Is The Easiest Way To Elevate Your Patio Space
Target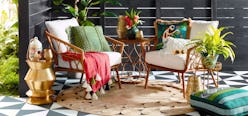 By now, you've probably gotten through a fair amount of spring cleaning — or at the very least, you've started. Once certain corners of your home are cleared out and organized to a level Marie Kondo would approve of, there's a good chance you're feeling fresh and ready to take on anything. Though that could involve signing up for a new workout class or determining your goals for the quarter, it could also entail giving a new part of your abode — such as the back patio — new life for the season. If that's the case, take a look through Target's 2-Day Home Sale, which has everything you could want to spruce up your outdoor area.
As the temperatures continue to work their way up the thermometer, your time spent outdoors will only become more frequent. Whether you're hosting a casual backyard barbecue with your closest friends, sharing an intimate patio dinner with your significant other, or enjoying a glass of wine on your own, creating a beautiful (and inviting) space can make all the difference in how you enjoy each moment.
However, decorating — no matter how big or small — can cost a pretty penny. This is where Target comes in. To help you build the idyllic outdoor aesthetic you're aiming for, the retailer's 2-Day Home Sale is offering 30 percent off select pieces. You better act fast though, because as the name suggests, this sale isn't a long one.
Start with a set of these Drop Outdoor String Lights, which are $20.99 during the sale. String them along a fence or above a seating space to create an ambiance of romance and whimsy. You can also line the area with solar-powered Stainless Outdoor Pathway Lights; these are on sale for $2.09 each.
Once you've set the mood with the right lighting, it's time to think about furniture. Grab yourself a set or two of the $146.99 Fairmont Stationary Patio Dining Chairs to easily elevate your outdoor parties. In case you want something to lounge on during the afternoons and evenings, you can't go wrong with the $230.99 Henning Patio Loveseat. And if you want to create a charming place worthy of a photo, don't pass up the $244.99 Britanna Patio Bistro Set, which includes two chairs and a table.
Last but certainly not least are the finishing touches. Roll out the Worn Stripe Outdoor Rug as an easy way to pull everything together — not to mention make it feel more like a place to truly settle down and relax. And if you prefer a bit more color, go for the Geo Diamond Outdoor Rug, or simply add an accent piece, like this Leopard Oversized Outdoor Lumbar Pillow.
Now, scroll down to see more selections from Target's 2-Day Home sale, and then head to the site to shop them all.