How This New Brush Protects Fine, Color-Treated, & Damaged Hair
Pixelformula/Sipa/Shutterstock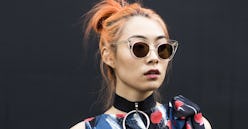 The struggle against hair breakage is real. Fall asleep while your hair is still damp? Hello, breakage. Blow-dry your hair instead of air-drying? That can totally dry it out (in a bad way). Toss your hair up in a bun? Forget about it. Protecting your color-treated and damaged hair basically feels like an uphill battle — which is why Tangle Teezer's Fine & Fragile Detangling Brush completely changes the way you should go about brushing your hair. Because believe it or not, damage prevention actually begins before you even apply any products, and starts with the type of tool you use to de-tangle your tresses.
If you have naturally fine, tangle-prone hair, you may already own one of Tangle Teezer's original detangling brushes. It's won over 25 awards since it first hit the haircare scene, quickly becoming one of the internet's favorite hair brushes thanks to its ability to safely, flexibly glide through dry or wet hair. And the new $12 Fine & Fragile brush does resemble its famous predecessor: The brush fits right into the palm of your hand, and is covered in tiny, hair-detangling teeth. However, while the original Tangle Teezer's teeth were gentle, the Fine & Fragile brush's are 30 percent softer than the OG Tangle Teezer brush.
Which leads to even less hair breakage. Five times less, according to Tangle Teezer's website — a huge number when every snapped strand counts. Besides protecting fine, color-treated, and damaged hair, the Fine & Fragile brush may also benefit anyone with thinning hair; the brush features an additional tier of smaller teeth that massage the scalp while you comb it through.
Trying to tame another hair type? Tangle Teezer has also previously released other specialized versions of its fan-favorite brush, including the $12 Thick & Curly Detangling Hair Brush, the $16 Compact Styler, and the Ultimate Detangler — a $14 version of its iconic brush that adds on an ergonomic handle.
You can order the new Fine & Fragile Detangling Brush on Tangle Teezer's website, or score it at Ulta by following the link below.