Supergoop!'s New Collab Is Giving Your Favorite Sunscreen The Prettiest Makeover For Spring
Courtesy of Supergoop!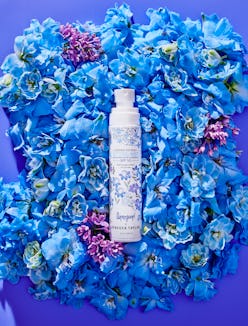 Wouldn't it be great if your skin had a restart button? That you could press after a long day and voilà, your face is back to how it was in the morning, post-cleanser? While that invention may still be a little ways off — though if any skincare scientists are reading this, please feel free to steal the idea — the Supergoop! x Rebecca Taylor collaboration just dropped, and it's pretty close. No, it won't magically cleanse and tone your skin for you, but it will refresh your face and your SPF coverage during the day. Which is pretty much magic, honestly.
The packaging is magical, too. The collaboration took Supergoop!'s popular Defense Refresh Setting Mist and gave it a fresh, femme makeover courtesy of designer Rebecca Taylor. Available Feb. 20, you can get a full-size bottle of the mist in the limited-edition print for $28, or a travel-size spray for $12. The two brands also teamed up to create the matching $28 Supergoop! x Rebecca Taylor Headband (vital for holding back curls and bangs when touching up your sunscreen), as well as the $25 SPF, In Bloom kit.
"We dressed up our best-selling makeup setting mist in collaboration with our friend and fan, Rebecca Taylor," Supergoop! Founder and CEO Holly Thaggard explained in a press email. "Rebecca has been using our products for years, so it felt natural to collaborate with her eponymous brand."
New to the the Defense Refresh mist? The spray is a multi-use tool. Formulated with rosemary and peppermint oils — which gives the product its scent — you can use it as a setting spray after you finish up your mourning makeup routine. Then, throughout the day, spritz it on to refresh your skin. However you use it, the Defense Refresh mist is powerful; the little bottle contains a SPF 50 formula.
The spray dries down in just a few seconds, too, making it a must-have for anyone short on time with a SPF-free makeup routine they love. Thanks to the mist, you don't need to swap out your favorite (but SPF-free) moisturizer, or take the extra time to wait for a sunscreen to dry down on your face in the morning — a win-win.
Anyone who falls in love with the print may be able to get it as pieces larger than a headband. Thaggard teased fans with the fact that they'll be able to "discover this floral print in [Rebecca Taylor's] new collection this season... and don't forget to apply (and reapply) your SPF!" So, before you go and buy the entire collab, bookmark Rebecca Taylor's new arrivals page to stay up-to-date with future releases. After all, the floral is worth the wait: The print was inspired by Château de Morsan's interiors, a home that's been standing in Normandy, France since 1765.
But you don't have to wait for the skincare goodies, or the chic headband. Below, all three new products from the Supergoop! x Rebecca Taylor collaboration.