Supergoop!'s New SPF Cream Specifically Protects A Delicate Spot (That's Easy To Forget)
Saira MacLeod/Shutterstock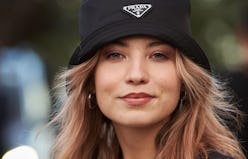 2019 saw an update to Coco Chanel's famous mantra: Before you leave the house, look in the mirror and take one thing off — and put SPF on. From sunscreens to protective moisturizers, blocking UV rays became as ubiquitous in skin care this year as hyaluronic acid or retinol. Still, Supergoop!'s new Bright-Eyed cream — which launched Dec. 27 — proves that your relationship with SPF products may need an update.
"The skin around the eye area is thinner and much more delicate, making the eyelids especially vulnerable to sun damage and skin cancers," explains Supergoop! CEO and Founder, Holly Thaggard, to TZR over email. Statistics back this up: Thaggard adds that 10 percent of skin cancers are discovered "on and around the eyelids," adding that Supergoop! wanted to "make it easy to protect these VIPs (aka Very Important Places) that are often neglected by sunscreen application."
Which yes, does happen. One key problem can keep beauty fans from slathering SPF on the delicate skin: Any stray drops of sunscreen can feel like its burning your eyes. "In my conversations around sun care, I've found that people were purposefully avoiding applying SPF to their eye area because they were concerned with itching and irritation. Chemicals commonly found in traditional sunscreens (such as oxybenzone, which has been on Supergoop!'s No List since day one) do have a tendency to cause burning and irritation on the skin," says Thaggard.
Supergoop! cleverly sidestepped this issue entirely with the $36 Bright-Eyed cream, which sports a 100 percent mineral formula offering SPF 40 power and blue light protection — alongside "pomegranate and caffeine to help reduce puffiness and the appearance of dark circles," notes Thaggard. "It's the perfect morning pick-me-up!"
No one will be able to tell you've added the SPF to your under-eye routine, either — regardless of if you layer foundation and concealer on top or let your skin care sing. "Bright-Eyed's formula has a universal pink tint that immediately illuminates that area," Thaggard continues. "And we also love using it to prime the eye area before makeup application." Which means no white cast, product pilling, or additional creasing.
You can find Bright-Eyed at Supergoop! stockists or order it online by visiting the brand's website. Below, the new Bright-Eyed 100% Mineral Eye Cream SPF 40.