Pack This Polarizing Tourist Accessory On Your Next Vacation
@annawinck on Instagram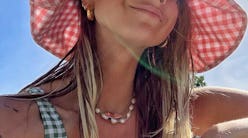 Nostalgia is a key ingredient to many of the latest trends to hit Instagram — especially when it comes to accessories. This summer's controversial tourist hat trend is replacing the bucket hat as the throwback accessory style to try. Think of these toppers as the bucket's outdoorsy sibling — the wide-brimmed styles you probably wore to the water park or camping as a child.
"It's definitely an update to the bucket hat," KkCo Founder and Designer Kara Jubin tells TZR. "It's more evolved and there are more ways to style it, like flipping up the front or even the side." Her new Los Angeles-based label includes an iteration of the topper in its summer collection, appropriately dubbed the Vacationer Hat. "[Our hat] was influenced by the tourist abroad. I like the idea of a tourist on a cheesy family vacation — cameras slung around their necks, sunblock on their noses, and traveling in tour groups. It's kind of hysterical and dorky."
When shopping for this practical and fun piece, there are a few subtle distinctions from the bucket. "The fabric is a softer cotton; not too soft to where it loses its shape but soft enough to where you can fold and pack it," Jubin notes. Technical fabrics, and chin straps are also key components in the more outdoorsy-focused designs. Ahead, see how influencers are putting their spin on this headgear and shop picks from brands that are bringing them back. Don't forget to experiment with flipping up different parts of the brim for a fun finish.
KkCo's Vacationer Hat is crafted from a tie-dye cotton that adds a playful pop of color to any summer outfit. In other words, it's a real outfit game-changer.
If you're unsure what to wear with a tourist-inspired hat, go for something like a matching set to simplify the look whilst keeping it stylish. To finish, swing a crossbody bag around your shoulders and slip into some pretty slides.
If you have the kind of personal style that tends toward a simple shirt and jeans (understandable) then toss a tourist hat on top for a refresh that takes minimal effort.
The best part about this trend is that you can find yours in a variety of colors and patterns to mirror your personality, like this ultra-cheerful gingham iteration.
If you're heading somewhere warm this summer, don't forget to pack a tourist-inspired hat to protect your face from the sun. It's the most stylish SPF there is plus if you snag one in a neutral hue you can wear it with just about anything in your suitcase.
The best accessory to polish off a swimsuit and coverup with? A vacationer hat, but of course. Buy one in a khaki color to give your look an Indiana-Jones-meets-Jane-Gooddall aesthetic.
A little white dress is a worthy summer investment because it's breathable and easy to accessorize. Toss a tie-dye tourist hat on and finish with socks and sneakers for a look that's youthful and versatile.
Take the trend up a notch and snag a version that includes a chin strap of sorts — it'll feel extra touristy but also fun and fresh styled with summer staples.
Offset a boldly-printed dress with a simple hat in a solid neutral. To finish, sporty sandals and a cute straw tote complement that indoor-outdoor aesthetic.
You may ascribe the tourist hat aesthetic to a more casual context, but stylist Sissy Sainte Marie proves it translates to a dressier scenario surprisingly well. Wear it with a midi dress and heeled sandals for your next outdoor party or a summer wedding, perhaps.