This "Controversial" Summer Trend That Stylish Women Love To Wear
@nnennaechem On Instagram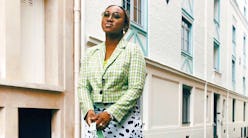 First things first: You probably have Alessandro Michele to thank for the current iteration of the print-mixing trend in fashion right now. His eccentric, maximalist approach to clashing colors and patterns as creative director for Gucci has become a phenomenon over the last few years. It's understandable if the idea of wearing two opposing prints together makes you cringe — it's not inherently the easiest trend to envision on. But, though initially jarring, it's entirely doable, you just need a few strong outfits to get you started.
Ahead, see how fashion-lovers are tackling prints-on-prints this summer — without looking like they got dressed in the dark. The key for many of these stylish women is the strategic incorporation of trendier patterns like tie-dye and asymmetric dots alongside classics like stripes and florals. Play with print proportion or choose hues from the opposite ends of the color wheel for a bit of dissonance that actually works. Now, if you need to add a few pops of prints to your wardrobe, shop the cool combinations below. Consider this your print mixing 101 course — once you're done, you'll never fear a bit of power clashing when it comes to your clothing.
Dare To Dot
If the idea of wearing polka dots feels tired to you, then reach for asymmetrical Dalmatian spots for a cooler vibe. Add a polo shirt in a classic pattern like check or stripes and tuck into your patterned skirt for an easy, but eye-catching combination. Wear this to your next party or dinner date for a high-impact look that takes very little effort.
Beachside Formula
Mixing prints isn't reserved solely for Monday to Friday. Take the idea and apply it to your next waterfront look. The easiest way to pull it off is via a printed swimsuit accessorized with a headscarf in a splashy pattern. All you'll need to add after that is a pair of fun sunglasses and a good summer book.
Polished Patterns
Heading to work? The print mixing trend is a solid option for that, too. Try layering a printed blazer over your patterned dress for an ensemble that's polished and also playful. Dress code permitting, add a pair of cute sneakers. If you work somewhere on the more corporate side, consider a pair of strappy sandals (either way, you're set).
Soft-Meets-Spicy
Balance out the sweetness of a delicate floral with a print that errs on the zestier side — like cheetah. Together, the duo are statement-making without feeling too loud. And since animal prints are a must-try right now, this makes embracing summer trends all the easier.
Post-Swim Situation
If you're on vacation then you'll be needing a slew of separates in breathable fabrics that can be worn with your swimsuit. As seen above, a striped bikini top looks wildly cool worn with a pair of gingham trousers. To take the look into evening, consider a button-down in an abstract swirl or marble.
Always Eccentric
The most rewarding aspect of mixing prints is that it's all about getting creative. Which is why the idea of wearing tie-dye with animal prints should be a no-brainer. Opt for simple silhouettes like a button-down and slip skirt to keep the look streamlined.
Stripes Are Simple
If you're nervous about mixing prints, start with stripes. It's the easiest pattern to style as it's generally considered a neutral and comes in a range of colors and widths. Keep the color palette simple, and stick to basics like a tee and pants with a more subtle punch.
Plaid Is Always A Good Idea
Sure, autumn has the strongest association with plaid but why not eschew tradition and wear it all year round? Mix two more traditional prints: an argyle with a classic plaid in a coordinated color palette and wear throughout the year.
Groovy, Baby
If you're on the hunt for a new weekend outfit, keep things playful and casual. Start with a gingham bucket hat, move on to a tie-dye shirt, and finish things off with denim shorts and sporty sandals.