The Bralette-Over-T-Shirt Look Is Surprisingly Easy To Pull Off
@VBIANCAV ON INSTAGRAM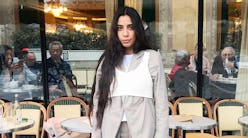 Wearing a bralette as outerwear has become a cult trend among the fashion crowd over the last few years. The alluring layering combination first made its way into runway collections: Remember Loewe's satin strapless bra fastened onto a houndstooth dress? Or what about Phoebe Philo's oxblood bustier built into a bright white frock at Cèline? But, countless street style looks have paved the way for a less intimidating approach to the bralette-top duo. Creative pairings range from corsets and bustiers worn atop ribbed-knit sweaters and wool dresses, to silky bralettes worn over simple t-shirts. And sartorial pioneers like Pernille Tesibaek, Taylor Tomasi Hill, and Margaret Zhang have led the charge.
Yes, it's a styling trick that falls on the adventurous side, like mismatched earrings or dresses worn with pants, but that doesn't mean it can't work for every day. It takes a little bit of strategy and risk, but the result is well worth it. If you're not sure where to start, stylist Doria Santlofer suggests layering a bralette or bustier "over either sheer tops like the PriscaVera mesh tops or extra oversized tees like a men's XL Hanes." The combination is simple yes, but the effect is eye-catching.
Ahead, discover even more ways to tackle this cool layering trend for summer and if your closet could use a new crop or top, shop your faves.
Ribbed Crop + Oversize White Tee
If wearing a true bralette feels out of your comfort zone, rest assured you can still wear this trend. Instead of a brassiere, snag a tightly-fitted crop top and fasten it over a roomy white tee. Finish the look off by loosely tucking in one side of your top into a pair of blue jeans or trousers for an effortless touch.
Cool Crop + Blazer
Take the trend to new heights by layering a cool crop top over a tee and blazer. It'll instantly update your pantsuit and give you a way to wear the duo to a more (laid-back) professional setting.
Bandeau + Graphic Tee
For days when wearing solely a tee doesn't feel quite bold enough, rather than searching for a button-down or blouse, consider layering a bandeau over your t-shirt. Tuck both of them into a pair of slacks or wear over a midi skirt to complete the look.
Architectural Bustier + Simple T-Shirt
Give your look a minimalist-inspired touch with an architectural, underwire bustier layered on top of a simple tee in a solid color. For an easy finish, add blue jeans and booties.
Sweetheart Silhouette + Contrast Tee
For a more noticeable take on the pairing, pick a bright white t-shirt and layer a black corset with a distinctive neckline, like sweetheart, over it. Weather permitting, toss on a light coat and slip into trousers for a work-ready ensemble.
Bralette + Ribbed Crop
Why wear one bralette when you can wear two? Style a more traditionally-shaped bra over a fitted crop for a fresh, youthful approach to the trend.