Stila's Adding New Liquid Eyeshadows To Its Collection — Here's When You Can Shop Them
COURTESY OF STILA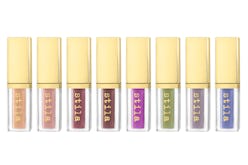 While summer is just kicking into high gear, beauty brands are already releasing their fall collections so you can get a head start on trying out the latest products. That said, narrowing in on where to start your shopping can be a tricky task. But, one thing is for sure: If you couldn't get enough of Stila's best-selling Glitter & Glow Liquid Eye Shadows this past year, then, you should pay particular attention to the release of Stila's new Suede Shade Liquid Eye Shadows.
Launching on July 8 at Sephora, the brand's new collection of hues provides the dose of eye-catching color you loved from Glitter & Glow but with a smooth, matte finish instead of sparkle and shine. And, while you may think a matte shadow could end up looking flat, that won't be the case when it comes to these shades. Within the liquid shadows are subtle iridescent pearls that'll give the hues the dimension they need to amp up your eyes.
Ringing in for $24 a tube, the new collection includes eight fresh colors that feature a lightweight, non-stick formula with skin-nourishing ingredients like vitamin E. On top of that, the brand promises the shadows are easy to blend on your eyelids and will provide for long-lasting wear.
Packed with color, the shades range from lighter hues like the neutral "Nude Awakening" and a pretty pink called "Sassy" to a deeper "Smoky Silk" as well as the rich tones of "Busta Mauve" and "Midnight Expresso." The collection is also not without pops of color, as it contains three shades that'll really make a visual impact: a bright blue titled "Something Blue," a bold purple dubbed "Violet Velvet," and a mossy green that goes by "Enchanted Earth."
Make sure to mark your calendar for the release of these new liquid shadows, so you can be one of the first to swipe them on your lids. And, while you're shopping, you might as well scoop up Stila's newly launched Magnum XXX Mascara to finish off your makeup — it's sure to make for a, well, eye-catching look.