How Sonya Dakar's Newest Serum Keeps Skin Clear (While Still Being Gentle)
Sonya Dakar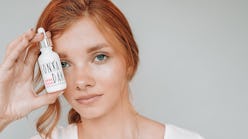 Breakouts aren't fun, that's for sure. But even worse is when the treatments that are supposed to take down a pesky pimple or two end up making your complexion worse because of way-harsh ingredients that obliterate not just the blemish but your entire face. Instead of going for products that are completely overkill, it's best to rely on gentler formulas that get the job done effectively without force. Enter Sonya Dakar's Super Clear serum, the latest addition to the skin pro's innovative, botanically-driven line, which promises a face that's not only clear but noticeably healthy, happy, and glowing. Sounds pretty good, right?
Celebrity facialist and all-around skin wizard Sonya Dakar believes that the problem with many blemish-annihilating products, is that they're focused on that single goal alone — to zap zits into oblivion, and fast. The result, unfortunately, is skin that's irritated, inflamed, dry, flaky (you get the idea). So when developing Super Clear, Dakar took a different approach.
"My inspiration behind this product was to create an acne clearing serum that everyone can use, all skin types, from super oily, to the driest skin and even my rosacea clients," Dakar said in the new serum's official press release.
Super Clear, $57 and now available on Sonya Dakar's website, features a 98-percent natural formula that's based on a three-pronged acne clarifying method that heals, clears, and protects your delicate complexion. It first relies on anti-inflammatories like marigold flower extract, calendula, ginko bilboa leaf extract, and more to accelerate the natural healing process and promote new, healthy skin cell growth — aka a vital step in getting over a breakout, fast.
In addition, niacinamide and salicylic acid target your pores to promote an even, toned, unclogged complexion and to cut back on excess oil production. These clearing ingredients help to gently treat any existing blemishes as well as refine your skin, meaning future breakouts are a lot less likely to pop up.
Lastly, humectants and antioxidant-rich botanicals are blended in to protect faces that are already feeling vulnerable (because the last thing you need to deal with is additional damage). Mineral-dense kelp seaweed moisturizes and calms skin, brown algae extract cuts back on redness, and sugar-derived Beta-Glucan M and Hydrolite 5 protects skin from free-radicals, firms up your face, and promotes the retention and penetration of all the serum's botanical goodness. Yes, please.
By the sounds of it, just about anyone could use this cocktail of skin-perfecting ingredients on their makeup shelf. So go ahead and grab a bottle for yourself, below.