Solange Just Made One Risky Trend Look Totally Wearable
John Lamparski/Getty Images Entertainment/Getty Images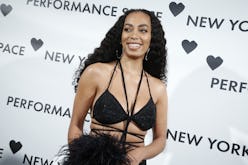 If you imagine a world in which the Knowles sisters are not global superstars, but are archetypal high schoolers instead, it would look something like this: Beyoncé is the popular, overachieving big sis — a cheerleader, perhaps. She doesn't have a "good" side, because she looks incredible from each and every angle. Meanwhile — Solange, the offbeat younger sis who stays low-key — lets her quirky-cool fashion sense do the talking and manages to flawlessly pull off trends you wouldn't touch with a ten ft. pole (ie. Solange's lime green sunglasses.)
In the real world, the Knowles sisters are obviously far from regular. They're Grammy-award winning icons, but these opposing personas still ring true. As the audience wonders what sorcery keeps Beyoncé's blowout pristine throughout three-hour, sweat-soaked performances, onlookers grapple with how Solange looks like art in literally everything she throws on. From nailing those urban cowboy-inspired visuals for When I Get Home to somehow making pink yarn look high-fashion in "Cranes in the Sky," the 33-year-old is constantly pushing the envelope creatively.
In a rare off-duty appearance on Melrose Ave., the artistic visionary's unique style was on full display, and it served as a roadmap for how to get weird with fashion this fall.
True to form, Solange was walking off the beaten path with paisley pants, a graphic tee, and the energetic eyewear pick. Topping off the look with mod ankle boots and a colorful tote bag, the singer kept a low-profile while en route to lunch, but her neon green shades from Insta-famous sunglasses brand, Poppy Lissiman, made a serious splash. If neon still makes you nervous, fun and vivid sunglasses are a low-commitment way to test drive the trend.
As you can see, Solange is skewing toward fall in terms of style, but the eye-catching shades keep her look high-energy — and they ring in at a moderately-priced $115. Channel the singer's signature style and shop the exact sunglasses below, then check out additional options sourced by The Zoe Report, ahead.
Shop The Look