Sofia Sanchez De Betak's Met Gala Dress Was By Mango — & You Can Buy A Similar One Soon
Courtesy of Mango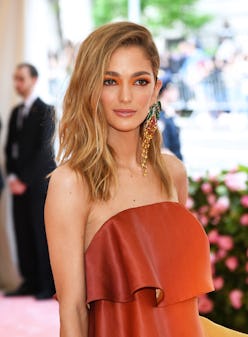 It's widely known that the Met Gala is an event that's filled with outfits that aren't exactly attainable. That probably doesn't stop you from lusting after any of the looks though — or trying to find a pared-down lookalike to wear to your own events throughout the year. Of course, that can be difficult considering how many of the gowns are custom made for the event. Which is why when someone wears something you can actually purchase in a store, chances are it'll cause some stir. Case in point? Fashion consultant and art director Sofia Sanchez de Betak's Met Gala gown. Her look for 2019 was designed in collaboration with Mango's design team, de Betak herself, and her stylist, Mimi Cuttrell, and will have its own capsule collection (with a similar version of the dress) available for the public to shop in June.
"Being the brand ambassador of Mango, it was kind of the natural thing to do; I spoke to them and they were on board immediately," de Betak tells The Zoe Report on why she chose the brand to design her outfit this year. "I'm very excited because it shows that you can walk the red carpet with an affordable dress that still looks great, and the process of making the dress and being involved myself and with the help of Mimi Cuttrell was great."
And affordable it is. Though the retailer's replica of Sofia's dress is $499 (not bad for a red carpet dress!), Mango is also launching a capsule that ranges from $100 to $130 — a price point that makes it almost too easy to add one of these Met Gala-inspired pieces to your wardrobe.
The process of creating an affordable couture dress did prove to be challenging. "I didn't have [a vision] really, it was a process," de Betak explains to TZR. "The Mango team and Mimi and I started building it up, and the idea came out beautifully. During the process the ideas changed, sometimes you have an idea and then, when you bring it to life, it doesn't work as planned. So it took a lot of traveling, we went to Barcelona a few times, we had a few fittings and a lot of lovely dinners."
And the end result was right in line with the Met Gala's theme, "Camp" — something that Cuttrell says tied in perfectly with the brand itself. "To me, Camp is being able to apply irony to current fashion trends and make it fun," she tells TZR in an email. "We came up with idea for Met, a mango, by taking a very obvious idea and building on it. The mango fruit is not typically associated with the brand itself, so we thought it would be a perfect theme for Met, given the irony."
Of course, it's only fitting that Cuttrell added more mangos in the form of accessories. "My favorite of the accessories is the crystallized mango purse and mango drop earring!" says Cuttrell. "We chose these to add a wow factor, which is very on theme for this overall look." After all, Susan Sontag did write that "the hallmark of Camp is the spirit of extravagance," in "Notes On 'Camp.'"
Makeup artist Ash Holm completed de Betak's look with neon orange eyeshadow, staying right in line with the mango theme of the rest of her ensemble. De Betak teased her hair and makeup on Instagram pre-Met Gala on May 5, also hinting at another part of her outfit for the evening: an ear cuff, which is one accessory that will have a similar piece in the capsule.
The entire collection, which includes several dresses, a pair of shoes, and a few more accessories, will be available at the Mango store in New York, located at 561 Broadway, and on Mango.com starting in June.
Editor's note: This post has been updated from its original version.