The Cost Of Fashion: Why Small Brands Are Getting Honest About Their Prices
Courtesy of Maison Cleo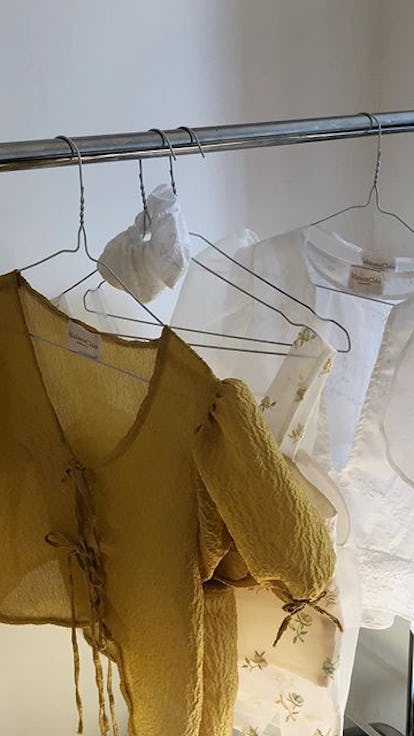 Everybody loves a purchase that they can feel good about, that's just a fact. Especially during a time when the news cycle can feel particularly bleak, spending money with brands that align with your own personal values — be they supporting women, sustainable production, or fair trade conditions for workers — is an easy way to put your money where your mouth is. But, small brands are hyper-aware of the fact that price can be a prohibitive factor for many consumers. On Instagram, many small and emerging brands are speaking out and finding ways to talk transparently with their customers about what sets them apart from the fashion giants.
These young brands (many of which are direct-to-consumer) are so aware of price in fact, that they are starting to tackle the conversation head-on with a completely transparent look at their business models: costs, margins, profits and all. And though larger DTC brands like Everlane have broken down cost before, it holds a different weight for these self starters. It's a conversation that Lauren Bucquet, founder and CEO of footwear and accessories brand Labucq, had been having with her team that ultimately led to the posting of a cost breakdown to the brand's Instagram page.
The post explains what it takes to make the brand's new $275 Nappa leather pool-slide sandals in their entirety — from each piece of the shoe, to packaging, factory costs, taxes, and operating costs — all of which must be accounted for when the brand sets its retail price. The post then goes on to explain how, though more expensive than fast fashion, a direct-to-consumer model allows lower prices in comparison to designer brands with similar quality goods. With this model, Labucq is able to hit its goal of 60 percent margins (the difference between what it cost to make and the selling price). The pool slide falls in the middle of Labucq's current offerings, which range between $195 to $395. Could you find cheaper at Zara? Sure, but that's not the point.
"I think we tacked towards transparency because we sensed disbelief from some in our audience," Bucquet, who is admittedly still conflicted about sharing the post, tells TZR. "We sensed people thought this was just some manipulative marketing gimmick. We wanted to show that this is real; What we are offering is honest, good, luxury product."
Whether or not she is still on the fence about making the post, there were surely supporters in the comments — including other founders excited to see another brand taking on the topic of transparency. One of those founders? Alia Meagan of Courtyard LA, a once vintage retailer that has pivoted to creating its own in-house collection.
"A lot of people say they want to support small business, but when they see that small businesses aren't just like Amazon, it's interesting to see how you can be treated," she says.
Beyond the actual percentages and numbers, for brands like Labucq, there's a weighty personal cost that goes into building a successful small business — something often overlooked by customers. The brand's three-person team includes Bucquet, who runs and oversees all things creative, her partner (and husband) who handles all of the digital ads and writes copy, and an intern. "We have these domains, but we're also just talking non-stop throughout the day," she says. "We are all involved in [each other's] stuff. All of us answer the phone, pack boxes, log in to the same adobe account, and respond to customer service emails."
This all-hands-on-deck attitude is also what fuels the familial, French line Maison Cleo, a brand thats handmade, whimsical and puff-sleeved garments first won over Instagram — and eventually the rest of the fashion world. "I wasn't able to find French brands that made their production in natural fabrics only, as I hate synthetics and polyester, so I started to ask for my mother to make me silks tank tops in the beginning," says co-founder Marie Dewet. "I also wanted to make clothes that could be made in any kind of size, which is possible with the made-to-order system."
The mother-daughter team have added price breakdowns on each product page since day one, explaining how much the fabric costs per garment, and how long it takes Dewet's mother Cleo (the brand's one and only seamstress) to make it. To further explain their price point, which falls anywhere between $160 and $300, the brand took to Instagram stories last year following critiques and confusion around pricing.
In the story, Dewet laid out the costs associated with making one of the brand's popular blouses (roughly $260) including fabric, labor per hour, PayPal fees per sale, marketing costs, packaging and more. Prices are set to assure that both Dewet and her mother each make $66 per garment sold.
According to Dewet, there's no comparison consumers can make between fast fashion and small and made-to-order fashion businesses. "Does it make sense to buy a dress at the same price of a meal?" she asks. "People forget what is to buy a piece of clothing and what is its normal value."
And while what one may consider to be a "normal" price for a piece of clothing is entirely subjective, small brands aren't leaving their own pieces up for interpretation any more. When designers invest so much into making quality, unique products in sustainable, labor-safe environments with fair pay, who can blame them?
"There's a truism that always comes back to me: you get what you pay for," says Bucquet. "I mean this outside of the political dialog, like that of supporting women-owned businesses, or following a sustainability dialog. At the level of product, you get what you pay for. It's the same with factories, with tanneries, with photographers and with employees. You get what you pay for."
Shop The Designers Below, Along With Similar Women-Led Brands: