The One-Step Outfit To Wear This Thanksgiving, Thanks To Sienna Miller
Gary Gershoff/Getty Images Entertainment/Getty Images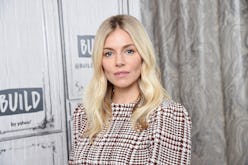 More often than not, the holiday (along with the days before and after) are chock-full of family get-togethers and intimate dinners. And this particular season always comes with a list of social obligations that require a stylish outfit or two. If you're currently pulling together a list of chic ensembles to create with the pieces in your wardrobe for the holiday, Sienna Miller's striped suit is a foolproof option to have in your arsenal.
As one to always rock a sleek and timeless ensemble, Miller stepped out on Nov. 19 in New York City on her way to the Today Show wearing a dark red pinstripe suit by Marc Jacobs. The 21 Bridges actor completed her look with Leset's $68 Pointelle Tank — an everyday staple reminiscent of the '90s — and a pair of Kate Young for Tura sunglasses. These pieces came together to create an undeniably cool look with the perfect balance of casual polish.
If there's anyone to take a sartorial cue from for the holidays — or any other occasion, for that matter — it's Miller. After all, whether she's posing on the red carpet, hot off an airplane, or out running errands, the star has always had a knack for wearing even the simplest of pieces — like a black turtleneck sweater — in an effortlessly chic way.
As the rise of non-traditional suiting becomes an increasingly apparent trend for the Fall 2019 season, Miller's recent outfit for her latest press tour comes as no surprise. And if you happen to have a formal Thanksgiving dinner or an office holiday party coming up, styling a tailored blazer and its coordinating trousers with a casual tank top underneath is the perfect and easy way to take on the trend.
Though Miller's exact Marc Jacobs suit isn't available to purchase, you can achieve a similar look with Zara's $129 Pinstripe Blazer and $69.90 Pinstripe Straight Leg Pants. Or, if you're interested in trying a bolder print, opt for Rachel Comey's $895 Loveless Blazer and the matching $550 Prime Pant.
Finish off the look with the same Leset tank top Miller wears, or opt for another style like the $85 Long Frilly Tank from Pretties. Just in case you prefer your basic staples to be more streamlined, the $75 Ribbed Cami from Goldie is a simple style that you'll be sure to live in.
Scroll down to shop these pieces and recreate Miller's striped suit outfit for your next holiday get together.