This Leather Tote Is Officially Sienna Miller's Spring Staple (& It's In Stock)
Jamie McCarthy/Getty Images Entertainment/Getty Images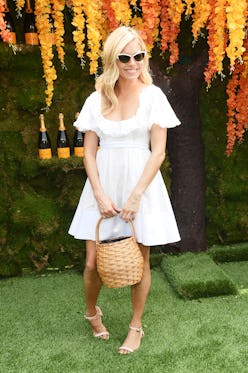 If ever you're looking for the season's It bag, you can most definitely put your trust in whatever's hanging on Sienna Miller's arm. The ever-fashionable Brit is constantly carrying the most up-to-date version of your average everyday bag. This time, Sienna Miller's leather tote of choice is a burgundy shade that was made for spring.
Miller and daughter Marlowe went for a little stroll in the West Village on Weds., holding hands and indulging in ice cream because despite the chilly New York temperatures, it's actually spring.
At last, Miller ditched her heavy coats and beanies for a lightweight sweater and jeans. The actor's top featured a Southwestern-style print and baggy bouffant sleeves. She opted for simple black loafers to match her everyday skinnies and a spring version of her usual tote bag.
This is the fourth time Miller has carried her burgundy carry-all by FRAME within a two-week period. It's no wonder she's obsessed with the accessory, though. Its pretty color and minimalist design are a fit for any outfit.
Take, for example, the ensemble she initially debuted it with on April 1, consisting of pink leggings, black sneakers, a knee-length shearling-trim parka, and a bright-red and green beanie (needless to say, a much different look than her most recent).
In the past couple weeks, she's paired it with a maxi skirt and sneaker combo, white pants and a camel coat, then distressed jeans and Converse with a slouchy black button-down tee. Just call this bag a chameleon because it matches everything.
A subtle FRAME logo is embossed along the top, between adjustable, peg-and-buttonhole drop handles. The tote is big enough to fit the necessities, your gym clothes, your laptop, or anything else the day calls for.
At $450, it's an investment bag, but Miller would tell you it's worth the splurge. The actor's tote and similar alternatives, ahead.
Shop The Look