This GANNI Sweater Got Marked Down Even More In Shopbop's Cyber Monday Sale
Shopbop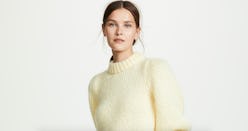 Did you miss out on buying your favorite fashion designer's clothing on sale this Black Friday? That may actually work out in your favor. The only thing that could be better than the boutique's Black Friday sale is the Shopbop Cyber Monday sale, which takes an extra 30 percent off its sale section full of contemporary fashion faves like GANNI, Acne Studios, and RE/DONE.
In honor of Cyber Monday, use the promo code WOW18 to take an additional 30 percent off of Shopbop's sale items. You may already know that sales at Shopbop are legendary, but this one is epic even by Cyber Monday standards: Shopbop's sale section has over 10,000 pieces for you to look through.
Since you could spend all of Monday shopping this sale, Shopbop made browsing the sale a breeze. Start by scrolling through your favorite designers; Shopbop's website includes a page that sorts the sales by designers, with an additional page sorting sales on designer boutiques (where you can find discounts on designers like Versace and Coach).
But as the age-old saying goes: When there's a sale on GANNI, buy it all. Originally $450, and discounted to $220.50 from $315 for Cyber Monday, this eggshell GANNI Julliard sweater is the pretty piece your sweater collection is missing. The mohair and wool blend will keep you cozy, while the elbow-length sleeves open the door for countless layering options.
Or you can join the #GANNIGirls clique with one of the brand's signature '70s-inspired dresses. Once retailing at $620, use the Cyber Monday code to score this silk GANNI dress for $303.80 — over half off the original price. GANNI's florals grace the closet of Rihanna, and This Is Jane Wayne co-founder Nike van Dinther's style has proven that flowing GANNI dresses are as ideal for streetwear as they are holiday parties.
This sale is also a perfect chance to stock up on high-quality closet staples. You're probably going to buy a pair of black booties for the winter, so they may as well be a pair from Diane von Furstenberg on sale. Marked down to $313 from $448, the Cyber Monday discount knocks down the price of these fitted leather booties to just $219.52. Need a mule instead? These Tibi Floyd Mules echo the cowboy boot trend and are on sale for $220.50 from $525 only on Cyber Monday.
Score essentials that rarely retail for under $100, including Instagram's favorite jeans by RE/DONE. Sustainable and form-fitting, these already discounted RE/DONE jeans are marked down from $375 to $112.50, and the Cyber Monday sale takes the price down to $78.75. Prep for next summer by grabbing this $56.70 RE/DONE denim skirt while it's on sale from $270; or layer it under long coats and over tights until it starts snowing.
Cyber Monday brings in some of the last blowout sales of the year, and Shopbop's is too good and way too big to not take advantage of. Ahead, 11 pieces from Shopbop's Cyber Monday sale to help you whittle down the 10,000-piece sale section to a more budget-friendly shopping cart.