Serena Williams' French Open Outfit Is Custom, Because Of Course It Is
Jamie McCarthy/Getty Images Entertainment/Getty Images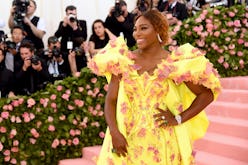 It's hard to believe one of the best tennis players of our time is also a fashion designer and a mom, not to mention Meghan Markle's bestie. The custom Virgil Abloh outfit Serena Williams wore to the 2019 French Open said it all: "mother," "champion," "queen," and "goddess." Nobody's forgetting who this legend is.
Williams traded her yellow floral Atelier Versace gown for a bespoke design from the founder of Off-White as she went from the biggest fashion event of the year to one of the biggest tennis events of the year. She's a staple in both industries and she seems to be merging her two worlds more than ever lately, sporting Nikes to the Met Gala and a designer outfit to the French Open.
The icon made quite the entrance at the French Open on Mon., showing up to her match against Vitalia Diatchenko wearing a black-and-white zebra-striped crop top and skirt designed by Virgil Abloh for Nike.
Abloh, who is the artistic director of Louis Vuitton menswear and the CEO of the Milan-based label Off-White, has collaborated with Jay-Z and Kanye West, Moncler, Jimmy Choo, and more. Naturally, his name has seeped into the sports world, too, offering a new spin on Nike which has since been worn at the French League Cup and now the French Open.
Williams has returned to the traditional tennis outfit after her controversial catsuit moment at the 2018 French Open, but has still managed to outdo all her past looks even so. She is a fashion designer herself, after all.
The 37-year-old athlete participated yet again in the renowned Roland-Garros in Paris, this time wearing a two-piece set with trendy black mesh around the torso. Off the court, she sported it with a long, flowy maxi and matching jacket.
She spoke to the Tennis Channel about her bold outfit choice, saying "It talks about me being a mom and me being a queen, as all women are. A champion. It's positive reinforcement for me, and I kind of love that."
Williams reconfirmed during her first round at the tournament that she is a champion, indeed. Not only did she beat Diatchenko two sets to one, but she also made history with her high-fashion ensemble on the court.
If you missed it, you can catch the outfit again in action as William plays against Kurumi Nara of Japan on Thurs., May 30.