The New Makeup Arrivals At Sephora This Month Are All About The Eyes
Natasha Denona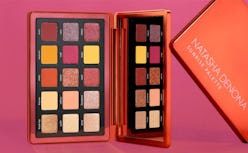 No one could ever deny the power of a classic red lip, or that contouring hasn't completely changed how the world approaches makeup. But this year, Sephora's June makeup arrivals are all about your eyes. The beauty store's new product selection is here to revolutionize how you do your eye makeup — specifically, your going-out routine, because these new glitter palettes, volumizing mascaras, and dark black liquid liners aren't messing around.
Though let's be real, you may've picked up Too Faced's new Damn Girl! 24-Hour Mascara the second it dropped on June 6. It follows a trail blazed by the Better Than Sex Mascara — so expect major curl, volume, and color from the $25 tube. Too Faced isn't the only popular beauty brand revisiting favorites, too; Urban Decay's new waterproof version of its Perversion Mascara may've already made you dash to Sephora's website. Thanks to its water-resistant power, the $24 formula lets you get away with wearing the brand's fan-favorite mascara on rainy days or to the gym.
Already scheming of which eyeshadow looks you want to create while you're out of office this summer? You have more than a few unique palettes to choose from. Try out the Dominique Cosmetics Rustic Glam Eyeshadow Palette (which landed at Sephora on June 6) if you switch between a neutral eye and glittery drama — it has a mix of easy-to-wear nude shades and deep, sultry colors. Likewise, the Natasha Denona Sunrise Eyeshadow Palette is one to add to your collection: The $65 palette offers a stunning selection of gold and pink shades (plus any subtler shadows you need to transition between them).
Snag the Violet Voss Best Life Eyeshadow & Glitter Palette if your current rotation of neutrals and shimmers aren't cutting it. The $49 palette features 14 eyeshadow shades plus seven dazzling pans of eye-catching glitter. Despite the larger-than-life sparkle, the Best Life palette is also a smart buy if you're looking for just one to bring on vacation; a few matte neutral shades flank the palette's left side, allowing you to create a sparkle-free look if you so please.
And those products will just get you started. Ahead, nine eye makeup products new to Sephora that guarantee all eyes will be on you.